IMF Sees Capital Needs for Greek Banks, Warns on Fiscal Risks
(Bloomberg) -- Greek banks need more capital and the economy faces many risks that could derail its budget, according to the International Monetary Fund.
"Downside risks, not least from legal challenges to past fiscal measures, recent labor market policy decisions, and election uncertainty, have increased," IMF staff said in the fund's first post-bailout monitoring report on Greece. The report highlighted the ailing banking sector as a threat to growth.
Greece marked an end to eight years in bailout programs last year, and is now testing its ability to function without creditors dictating the policies it can pursue. The IMF hasn't disbursed any loans to the country since 2014, but it still exerts influence since its usually critical reports help European creditor governments keep pressure on Greece to continue reforms.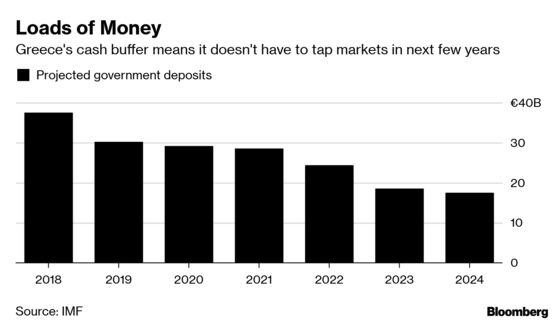 Euro-area finance ministers on Monday withheld disbursement of some 1 billion euros ($1.1 billion) of debt relief after determining that the country had not fulfilled all of the necessary reform conditions. Despite the holdup, the ministers voiced optimism the outstanding overhauls will soon be completed, allowing for the funds to be transferred in April.
The IMF upgraded its growth forecast for this year to 2.4 percent from a previous estimate of 2.1 percent. Still, the government's efforts to "lower non-wage costs, generate investment, and boost productivity and exports remain incomplete," it said in the report.
Among other recommendations, the IMF staff argued the government should free up budgetary space to lower tax rates and increase targeted social spending and investment. It should also prepare a fiscal contingency plan to prepare for court decisions that could reverse past public sector wage and pension cuts.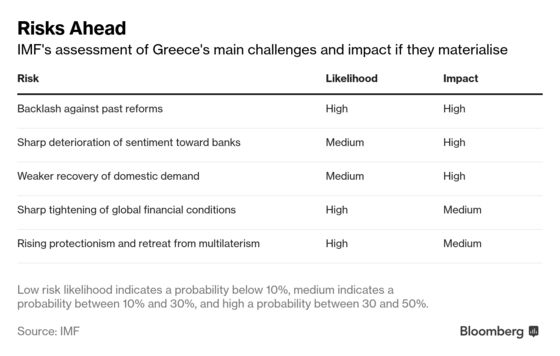 One of Greece's biggest challenges is its banks' large stock of non-performing exposures. Banks need to build up capital to support ambitious NPE-reduction targets, which could mean issuing equity or, given lack of demand, non-dilutive capital instruments in private markets, according to the report.
Any delays in a system clean-up would slow the return of lending and would leave the banking system vulnerable to risks, including capital depletion, the fund said.
The government's large cash buffer means it can service its debt through the end of 2022 without any further market financing if necessary, according to the report. The IMF also noted that the government is exploring early repayment of about 5.7 billion euros it owes to the fund.