Illinois's Covid Curve Drops More Sharply Than Peers After Surge
(Bloomberg) -- As the pandemic begins to recede in U.S. states, Illinois is among America's most improved.
The nation's sixth-most-populous state has had a notable turnaround since its case curve peaked in November, compared with large peers including California, Georgia, New York, Florida and Pennsylvania. The improved metrics follow almost two months of tightened restrictions that Governor J.B. Pritzker enacted to avoid a holiday surge.
The Covid-19 case count on Tuesday fell to 2,304, the lowest daily figure since Oct. 6, according to the Illinois Department of Public Health. One day earlier, the number of deaths touched 16, the fewest since November. Hospitalizations and intensive-care bed use also declined to the lowest since the fall. The rolling seven-day positivity rate dipped to 3.9% from 11.5% on Nov. 20, the day the governor enacted the rules.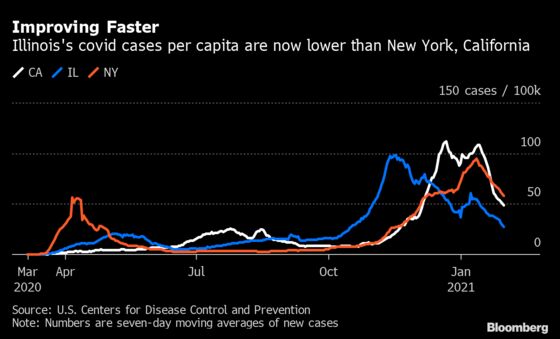 With statewide metrics showing improvements, restrictions have been easing since last month, albeit at different speeds. Indoor dining, recreational activities and social gatherings have restarted at limited capacities. Chicago Public Schools officials this week are negotiating with the teachers' union to restart in-person instruction for preschool through eighth-grade students.
The statewide curve is bending even in the face of opposition to the mitigation measures in some regions, and despite hot spots in areas including neighborhoods in Chicago.
Looking nationally, the U.S. reported 119,747 new cases Monday, according to Covid Tracking Project data, pulling the seven-day average down to 142,958. As of Tuesday afternoon, there had been at least 443,923 reported deaths in the U.S., Johns Hopkins University data show.
According to Covid Tracking Project data:
Arizona has the most people hospitalized with the virus per capita, at 502 per million.
No state has posted a single-day case record for more than two weeks.