Illinois Rainy Day Fund Almost Nil While Other States Hit Record
(Bloomberg) -- While many states used the longest U.S. economic recovery to boost rainy-day funds to record levels, Illinois hasn't contributed to this safety net in more than a decade. Now, Governor J.B. Pritzker wants to catch up.
The billionaire Democrat proposed putting $50 million from an expected surplus into the state's so-called budget stabilization fund this year and the same amount again in fiscal 2021 if voters approve a graduated income tax referendum in November. The fund was almost depleted in 2017 amid a budget impasse between then Governor Bruce Rauner, a Republican, and Illinois's Democrat-controlled legislature.
In contrast, U.S. states collectively held a record $74.9 billion in rainy-day funds at the end of fiscal 2019, the ninth-straight year of increases, according to the latest data going back to 2000 from The Pew Charitable Trusts. States theoretically could run operations for a record median 27.9 days with those savings while Illinois has enough for less than one day, according to Pew.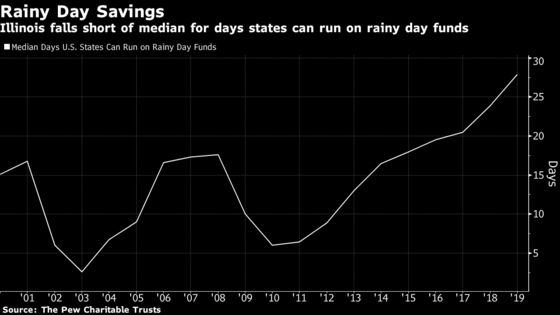 "Illinois is less prepared," Justin Theal, an officer with Pew who focuses on state fiscal health, said in a telephone interview on Friday.
Rainy day funds can offer safeguards for states and can lessen reliance on budget cuts or tax increases when revenue falls short or the economy slows. These reserves are also tracked by credit rating firms. Pritzker said Feb. 19 that contributing to the rainy-day fund in Illinois, the U.S. state with the worst credit rating, is part of "repairing the financial damage of the past."
Illinois has $58,655.62 in its rainy day fund, according to state Comptroller Susana Mendoza, who along with state Senator Heather Steans has proposed legislation that would trigger automatic monthly transfers into the fund when the state's bill backlog is less than $3 billion. The current backlog is about $7.3 billion.
The $100 million Pritzker proposed putting into the rainy day fund over fiscal 2020 and 2021 doesn't change the fundamental view but "it's a step in the right direction" for Illinois, Eric Kim, senior director of public finance for Fitch Ratings, said in a telephone interview on Friday.