Illinois Investors Seek Pension Fix Clues in Budget Proposal
(Bloomberg) -- Illinois Governor J.B. Pritzker will deliver his second budget address on Wednesday, when investors will be looking for specifics on how the Democrat plans to chip away at the government's growing pension debt and raise new revenue for the lowest-rated U.S. state.
The billionaire will lay out his spending plan for the year that starts July 1 at noon local time in the capital of Springfield.
During the "State of the State" last month, Pritzker said he plans to focus on education, job training, infrastructure and what he calls a "fairer" tax system in his spending plan. He also wants to work with local governments to lower property taxes.
While his administration secured legislative approval to consolidate about 650 local fire and police pension plans, the $137 billion of unfunded liabilities for the state's five retirement funds remains a drag on state finances
To generate more revenue, Pritzker has proposed enacting a graduated income tax, which would instituting higher levies on weathier residents.

Voters in November will decide whether to approve a constitutional amendment to do away with Illinois's flat income tax.
A graduated one could bring in $3.6 billion of additional tax revenue annually by raising levies on those who earn more than $250,000, according to the governor's office.

Currently, the rate for all taxpayers is 4.95%.

Investors have lauded Illinois's progress, including the passage of an on-time budget last year, a gas tax to fund the first capital plan in a decade, and the legalization of recreational marijuana.
Illinois's bond yields have fallen relative to benchmark securities, in part because of the fiscal progress.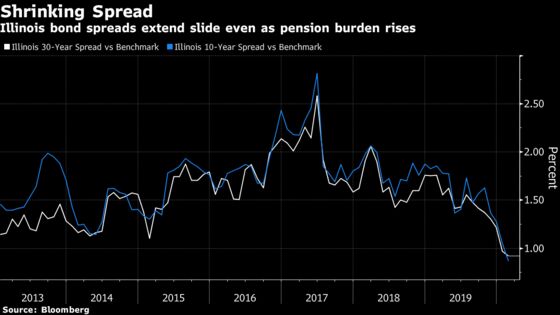 "I would like to hear about pension reform that goes beyond the income tax referendum," said Dora Lee, director of research at Belle Haven Investments, which manages about $11 billion of municipal assets including Illinois debt.
James Iselin, head of municipal fixed income for Neuberger Berman Group LLC, which holds Illinois debt among its $11 billion of municipal bonds, said he wants to see momentum for a solution for the pension shortfall, especially amid the improved relationship between the state's executive and legislative branches

Pritzker's predecessor, Governor Bruce Rauner, a Republican, clashed with the Democrat-controlled legislature, leaving the state without a budget for two years and imperiling its investment-grade credit rating
Iselin is also monitoring the income-tax vote in November, noting that "increasing revenue by close to 10% of the state budget is a big number."

House Republicans want to replicate the bipartisan process by which the state passed its balanced budget last year, Minority Leader Jim Durkin said during a press conference on Tuesday.

Durkin, who doesn't support the progressive income tax, added that "we are at a point where we don't need additional revenue" and the state has a "growing surplus"
The budget should focus on "real money, not money based on hypotheticals'' given the uncertainty of the referendum in November

Chicago Mayor Lori Lightfoot met Tuesday with members of the General Assembly, including House Republicans, as she tries to improve the finances of the state's largest city. She wants legislative approval for a tax structure for a potential casino there that's more appealing to operators.