Illinois Upgraded by Moody's in Pullback From Cusp of Junk
(Bloomberg) -- Illinois's credit rating was upgraded by Moody's Investors Service as its tax revenue rebounds along with the economy and it receives an influx of federal aid, pulling the state back from the cusp of a junk-bond rating.
The upgrade of the state's general-obligation debt to Baa2 from Baa3 "is supported by material improvement in the state's finances," Moody's said in a statement Tuesday. It is the first time Moody's has raised Illinois's rating since 1998, according to the state, and leaves it two steps above non-investment grade.
The step comes after Governor J.B. Pritzker enacted a budget that increases pension contributions, and as the state repays an emergency loan from the Federal Reserve early and cuts down its backlog of unpaid bills. The steps are a marked improvement for a state that had long been at the risk of being the first in the U.S. to be cut to junk.
"It's a huge note of progress for our state," Pritzker said during a press conference after the rating hike. "Illinois's fiscal condition is heading in the right direction for the first time in the 21st century."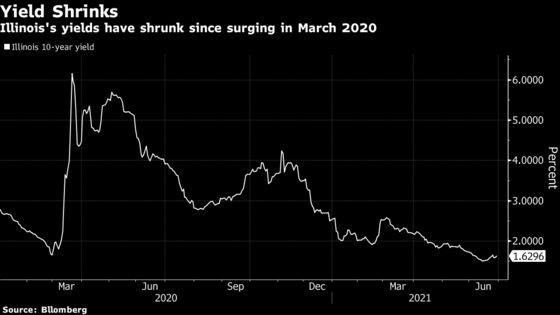 In March, both Moody's and S&P Global Ratings had raised their outlooks on the state to stable from negative, removing the risk of an imminent downgrade. Fitch Ratings last week also raised its outlook on Illinois to positive from negative, citing the state's "fiscal resilience," the economic recovery and measures taken to improve its finances. Fitch's outlook indicates the rating could be lifted over the next two years.
Its ratings from S&P and Fitch are both still one notch above junk. Illinois, which still has the lowest credit rating of all U.S. states, has long paid among the highest penalties to borrow in the $4 trillion muni-bond market. That's partly due to its long-standing financial problems, such as $141 billion of unfunded pension liabilities. The higher rating from Moody's will likely help save millions of dollars for the state's taxpayers, according to Pritzker.
Illinois was the only state to borrow from the Federal Reserve's Municipal Liquidity Facility in 2020 as yields on its bonds surged. At the height of the pandemic, yields on the state's 10-year bonds jumped above 6% and have since come down to about 1.63%.
"Just a little over six months ago, there was a raging debate over whether Illinois would be able to hold onto its investment grade rating," Ty Schoback, a senior municipal research analyst for Columbia Threadneedle Investments, which owns Illinois debt as part of $17 billion in muni assets, said in an interview.
"It's truly just a night and day situation and outlook for the state," Schoback said. "To Illinois's credit, despite their reputation and their history with fiscal decisions, they've made highly prudent choices."
Illinois finances have been buoyed by the economic recovery as revenue exceeds expectations and the state receives $8.1 billion in aid from President Joe Biden's rescue plan. The state is paying back the outstanding portion of the $3.2 billion it borrowed from the Federal Reserve's emergency lending facility last year with higher-than-anticipated tax collections. The state has cut its unpaid bills to less than $3 billion. That backlog had reached more than $16 billion in 2017 during the state's budget impasse.
"They need to just not mess it up," Schoback said. "They need to maintain their discipline on pensions, moving to structural balance."