If You Thought Leveraged Loans Were Too Heated, Look Away Now
(Bloomberg) -- The temperature gauge is flashing red again in the European market for leveraged loans. Here are some of the signals that show borrowers have the upper hand in contrast to the pre-summer months when investors held sway.
New-issue spreads have dropped from their recent peak as appetite for loans overtook thinning supply. October turned out the lowest monthly new issuance of 2017, and lenders have only faint hopes of a resurgence in fresh supply before year-end to restore the balance. Single-B deals in the three months to Oct. 31 paid 388 basis points over Euribor on average, down from 426 basis points in the third quarter, according to data compiled by Bloomberg.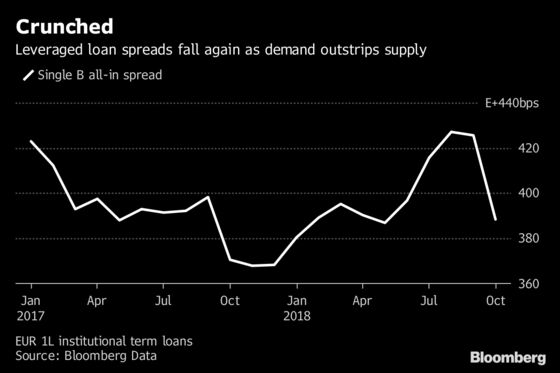 Numerous borrowers have flexed pricing tighter versus original talk since the start of September, and Thor Industries Inc. was the only issuer that had to widen. Through June and July, wider flexes dominated the market.
October brought a 2018 monthly repricing high of 4.3 billion euros ($4.9 billion) as borrowers again ask to reprice existing loans after a lengthy quiet spell on this front. As long as spreads stay low and investors stay hungry, a bigger wave of repricings can be expected going into next year. Debt issuers that raised loan funding between May and August, as spreads were rising to a peak, will exit their six months of soft-call protection and many will want to return cut margins.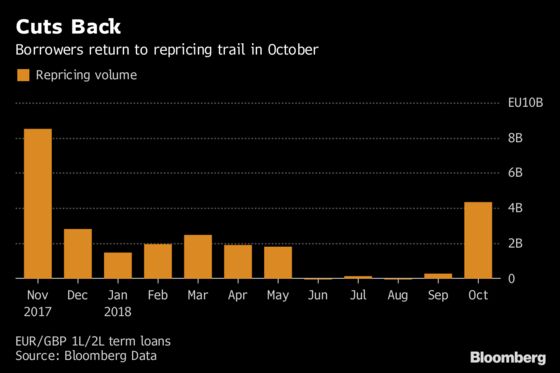 Secondary prices have risen almost to where they were before the market softened over the summer, and have remained steady during October despite U.S. trading levels weakening. The average secondary price is now 99.15, up from 98.4 in early July, based on the S&P European Leveraged Loan Index.
Two issuers have tapped into the combination of high secondary prices and scarcity of assets to price add-on loans above par--a rare sight in Europe. VFS Global priced last week at 100.25, without any call protection, and Sivantos Widex at 100.75 the week before. Aside from these two, primary issue prices have risen again and many deals are pricing at or close to par. Only four companies have priced debt at 99 or below since the start of September, compared with 18 in June, July and August.
Read More: Bloomberg's European Leveraged Finance Chartbook October 2018
(Ruth McGavin and Sarah Husband are leveraged finance strategists who write for Bloomberg. The observations they make are their own and not intended as investment advice.)