Iceland Criticizes Ultra-Low Rates, Citing 'Problems' in Europe
(Bloomberg) -- Iceland's central bank has lived through several extremes since the financial crisis of 2008. But one thing it seems keen to avoid is negative interest rates.
"In my view, taking interest rates too low can be quite problematic for the Icelandic banking system, as it has been in Europe," Governor Asgeir Jonsson said in an interview in Reykjavik. "Given the zero -- or close to zero -- lower bound on deposits, rate cuts below a certain level will squeeze the interest margins of banks, reduce their profits and stop new lending."
Over the past 12 years, Iceland hasn't been shy to try out a number of monetary policy maneuvers to protect its tiny economy from ruin, including currency controls and individual rate moves as big as 6 percentage points. Now, as the economy slows, Iceland has resorted to historic levels of stimulus.
The governor, who cut rates to an all-time low of 2.75% this month, spoke as Iceland faces fresh headwinds to its all-important tourism industry from the spread of the coronavirus.
"Our current account surplus and the enhanced credibility of our currency allow us to cut rates further if needed without having to worry about a depreciation that could jeopardize our inflation target," he said.
An improved balance sheet also means there's scope to increase liquidity in the financial system, for instance by reducing the banks' capital requirements or intervening in the currency markets.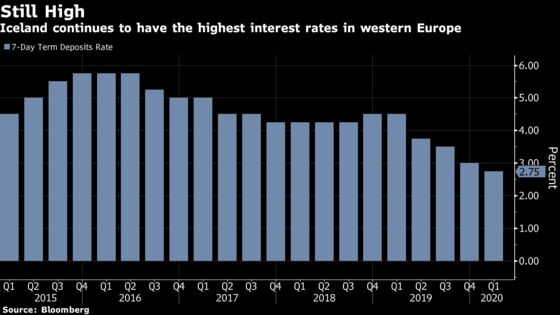 Read more: Riksbank Talks Up Bond Plan in Attempt to Dodge Subzero Trap
It is a testament to how much the economy has developed since the carry trade and reckless lending almost ruined the north Atlantic island just over a decade ago.
After posting years of solid growth, the central bank now expects the economy to expand at an annual rate of just 0.8% this year, down from its November forecast of 1.6%.
The slowdown is largely attributed to the problems in the tourism industry following the collapse of low-cost carrier Wow Air and the grounding of Icelandair's Boeing Max jets. Foreign arrivals are down 15% since February 2019.
Iceland's main export has also been hit by a drop in Chinese visitors due to the coronavirus.
"If global tourism suffers because of the coronavirus we will be effected. That would have a further negative effect on our export base," Jonsson said.
The governor says Iceland also has considerable fiscal space to maneuver given that debt levels have been brought down. Gross debt is now at about 30% of gross domestic product, compared with 86% in 2011. The government's 2020 budget envisages tax cuts and increased public spending.
"I think we will be able to ensure a soft landing in Iceland after a long period of economic expansion," he said.
"One could say that Iceland is becoming a normal country."