Iceland Central Bank Keeps Rates Unchanged as Economy Cools
(Bloomberg) -- Iceland's central bank kept its benchmark rate unchanged for a second meeting as policy makers face slowing economic growth while inflation remains far above target.
The Central Bank of Iceland kept its key interest rate at 4.5 percent, according to a statement.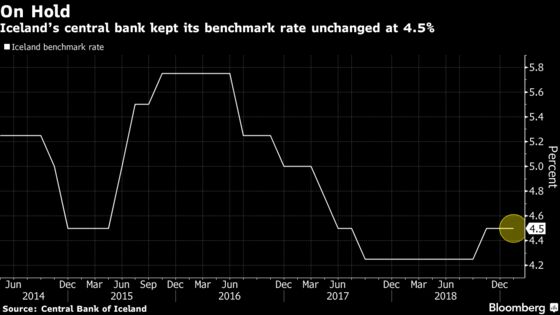 The bank predicted that growth in the smallest Nordic economy will cool to 1.8 percent this year, which would be the slowest pace since 2012. It's about 1 percentage point below forecasts just from November.
The "slowdown in growth is due in particular to a contraction in tourism," the bank said.
Nevertheless, it also reiterated that it "has both the will and the tools necessary to keep inflation and inflation expectations at target over the long term" which could call for a tighter monetary stance in coming months.
The bank in November raised rates for the first time in three years in part to stem a decline in the krona, which sold off amid economic concerns. The currency is down about 2.8 percent this year, though still stronger than the trough hit last year. The bank has also been intervening the the currency markets.
"Although inflation eased to 3.4 percent in January and the krona has appreciated since the MPC's December meeting, the outlook is for inflation to pick up this year and remain above the target until" the second half of 2020, the bank said.