Icahn to Push for Changes at Bausch, May Seek Board Seats
(Bloomberg) -- Activist investor Carl Icahn has taken a new stake in Bausch Health Cos. and said he plans to push for changes at the company, including potentially seeking board seats.
The billionaire investor's arrival was welcomed by another long-time Bausch agitator, Larry Robbins, who outlined his vision for the company Friday.
Icahn disclosed in a regulatory filing Thursday he had accumulated a 7.83% stake in the health-care company, formerly known as Valeant Pharmaceuticals. Icahn said he believed its shares are undervalued, and planned to discuss with its board and management ways to enhance shareholder value, including through Bausch's ongoing strategic review.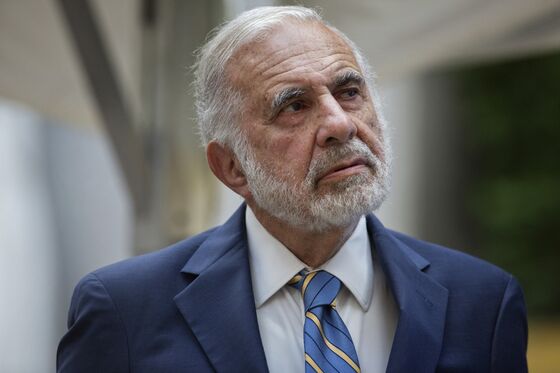 Robbins said he welcomed the new position by "legendary activist" Icahn. But he said in a letter to Bausch Chairman and Chief Executive Joseph Pappas Friday many respected long-only institutions have been scared off by the company's high debt and the threat that it may have to sell cheap equity to pay it off.
Robbins said he has spoken privately with the company since his Glenview Capital Management took a position in Bausch in late 2018. Despite those discussions, little has been done since, he argues.
"Simply put, from an outsider's perspective, the action plan has been 100% plan, 0% action," Robbins said in the letter.
He called on the company to spin off its eye-care business and simplify its remaining portfolio. While Bausch said it would spin off its eye-care business in August 2020, Robbins said the communication since then has been "cryptic at best" with regards to a timeline, capital structure and conditions necessary to move forward.
"We believe the solution is obvious -- sell off stakes in or portions of your high-value, optimally profiled assets at fair prices to raise equity and delever, replacing the value death-spiral narrative with a well-orchestrated campaign to offer ownership in iconic assets to the many pools of capital who are chasing a scarce number of fairly valued, quality growth alternatives," Robbins said.
Bausch rose more than 6% in early trading on Friday. The stock closed up 1.8% to $30.11 on Thursday, giving the company a market value of $10.7 billion. Its shares have gained about 6.8% in the past year, according to data compiled by Bloomberg.
Last month, Bausch released preliminary fourth-quarter results, saying it expected revenue for the three-month period ended Dec. 31 to be more than $2.2 billion. It said it expected 2020 revenue to be higher than its previous guidance of $8 billion. It also said it expected to have generated more than $1 billion in cash for the year.
Icahn and Robbins aren't the first investors to agitate at Bausch. Activist investor Bill Ackman had a stake in the company when it was known as Valeant. The bet that turned bad, eventually losing the billionaire investor more than $4 billion after a series of scandals at the company.