IBM Earnings Cheered by Street While Legacy Unit Concerns Others
(Bloomberg) -- IBM Corp.'s positive forecast for 2019 and earnings beat had shares rallying as much as 10 percent Wednesday, its largest intraday gain since the financial crisis 10 years ago. While the earnings beat had some analysts cheering after the company's struggles in 2018, others worried about falling revenue in the company's legacy businesses and were looking for more detail on the Red Hat acquisition.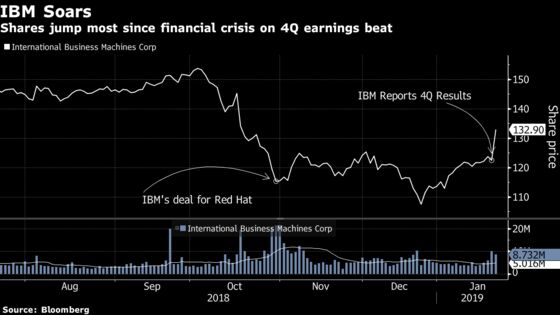 Here's what Wall Street is saying:
A short-term rally in the shares may be on the horizon on the good news as longer-term investors await the closing and integration of Red Hat, planned for the second half of 2019.
IBM is seeing improved gross-margin performance across all segments and its guidance was "notably better" than most expectations. "Given ongoing macro volatility, this was an impressive print with gross margins improving for the first time in 3+ years. We think organically the improvement in services should be sustainable."
Daryanani adds that the company is the "best mix" of technology businesses. While top-line growth will remain limited in the near-term and likely result in share buybacks and margin mix to boost EPS growth, the stock is inexpensive and a "solid defensive investment."
Rates outperform, PT $160
IBM posted "better-than-feared" results as tailwinds such as high-renewal rates masked its weak competitive position and margin compression on legacy software and services.
Maintained a neutral rating on the view that "IBM's results will continue to be impacted by structural headwinds taking place at the company's services and software segments, as well as by weak FCF generation and profitability given the company's aggressive M&A activity."
Cantor Fitzgerald, Joseph Foresi
Although earnings per share beat expectations, revenue was in-line, with core legacy revenues falling by 10%. IBM currently trades below peers, and it must return to consistent organic growth and margin expansion, Foresi said.
Foresi maintained his rating, saying that "we await better visibility on the company's ability to consistently grow the business and scale margins along with the impact of Red Hat."
Wells Fargo, Edward Caso Jr.
IBM had a "solid" fourth-quarter as it continues its slow but positive transition. "A growing dividend rate, a high dividend yield, and above-peer free cash flow yield should all provide some share price support as the company continues its journey to positioning for a digital world," Caso said, maintaining his market perform rating to reflect the upcoming two-year pause in share repurchases as free cash flow is directed to the Red Hat cash acquisition.
Rates market perform, PT $140