Huw Pill to Retire as Goldman Sachs's Chief European Economist
(Bloomberg) -- Huw Pill is to retire as chief European economist at Goldman Sachs Group Inc. and be succeeded by Jari Stehn, the bank said in an internal announcement.
Pill, 50, a former deputy director general of research at the European Central Bank, will leave at the end of this year after seven years at Goldman Sachs and become an advisory director, Steve Strongin, the bank's head of global investment research, and Jan Hatzius, its chief economist, said in the announcement.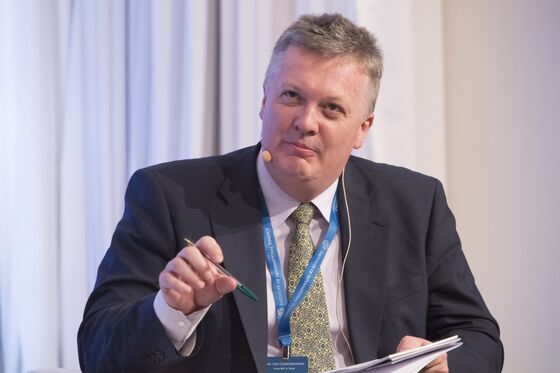 "Huw played a vital role in managing the division's economics research in Europe and was instrumental in shaping the firm's economics views during the European crisis," Strongin and Hatzius said in the statement, which was obtained by Bloomberg News and confirmed by a spokesman.
Stehn joined Goldman Sachs as a U.S. economist in 2010, before moving to London in 2015, where he led research on the global economy.
In its 2019 outlook published this month, Goldman Sachs said low inflation and the political situations in Italy and the U.K. meant the ECB may hike interest rates later than the fourth quarter of next year, as Pill and colleagues currently expect.