Huuuge Steady in Debut After Biggest-Ever Warsaw Gaming IPO
(Bloomberg) -- Huuuge Inc., a developer of free-to-play mobile casino games, was little changed in its first day of trading in Warsaw, a lackluster start for Poland's biggest-ever gaming industry listing.
Shares traded at 49.99 zloty as of 12:51 p.m. in Warsaw compared with the 50 zloty issue price in its initial public offering. The company and its owners raised 1.67 billion zloty ($445 million), with Huuuge becoming Poland's second-biggest listed gaming studio after CD Projekt SA.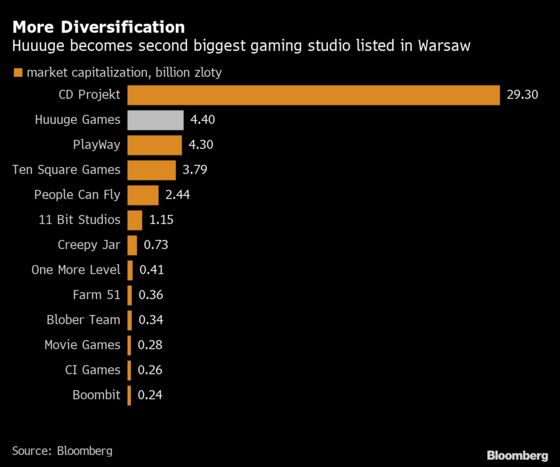 The IPO drew strong interest from retail buyers, who on average got 3% of the shares they subscribed for due to high demand. Recent debuts from other online services stocks in Warsaw, including e-commerce platform Allegro.eu SA and gaming studio PCF Group SA, posted double-digit gains in their first trading sessions.
"Huuuge's debut shows that being in the attractive free-to-play mobile game segment alone may be not sufficient to guarantee extra returns," Kacper Kopron, an analyst at broker Trigon Dom Maklerski SA, said by phone. He expects investors will wait for Huuuge to move forward with planned acquisitions as proof of its growth strategy.
"Sometimes, the IPO price turns to be at fair value for traders," Kopron said, though added that Huuuge is trading below its bigger international peers such as Zynga Inc. or Playtika Holding Corp.
Fellow Polish free-to-play gaming studio TEN Square Games SA dropped as much as 5.2% on Friday.
Due to legal restrictions deriving from company's registration in the U.S., Huuuge can't be traded via most Polish brokers' mobile apps, which may affect individual investors' ability to buy and sell the stock. Still, its shares have the highest trading volume on the Warsaw exchange Friday.
Huuuge's debut cements Warsaw's status as an incubator for gaming IPOs after PCF listing in December and four more gaming companies started trading on the market's NewConnect platform for smaller stocks this year. Though Huuuge is registered in the U.S., most of its staff is in Poland.
During the stock's opening ceremony on Friday, Huuuge's founder and Chief Executive Officer Anton Gauffin said that the Warsaw Stock Exchange is the most active marketplace in terms of gaming listings.
Huuuge's 56% free float upon listing may help the stock to get into the mWIG40 Index for mid-sized companies quickly, which would drive more investor flows. It could be eligible to join Poland's main WIG20 benchmark in the future, according to Pawel Sugalski, a fund manager at Rockbridge TFI SA.