Hungary Sticks With Smaller Rate Hike, Pushing Forint Weaker
Hungary shrugged off pressure to accelerate interest-rate increases after the central bank slowed its campaign to raise borrowing costs in the face of surging inflation. The forint dropped.
Policy makers raised the benchmark interest rate by 15 basis points on Tuesday to 1.80%, matching the median estimate in a Bloomberg survey. The move is the same as in September, when the central bank defied market expectations by not continuing with another of the 30 basis-point increases delivered each month from June to August.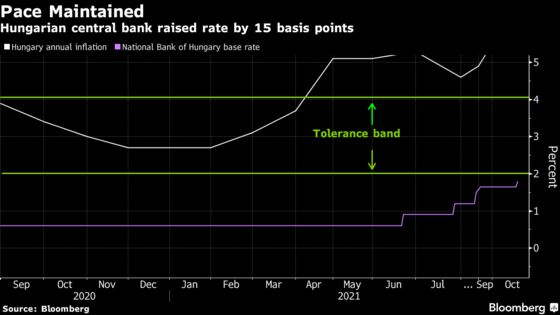 Even as inflationary pressures have become more persistent than the central bank's earlier expectations, policy makers plan to pace their tightening steps, which will extend into 2022, Deputy Governor Barnabas Virag said at a conference after the rate decision.
"The fight against inflation is similar to long-distance running, not to a sprint," Virag said at an event organized by Portfolio news website.
That didn't immediately appease investors. The currency fell 0.2% to a six-month low 362.52 against the euro, reversing earlier gains in the lead-up to the rate decision. The forint has erased all gains since the start of the tightening cycle in June and has dropped 2.2% since the last rate meeting in September. The yield on the 10-year government bond has jumped 74 basis points to 3.89% in the last month.
"The market doesn't seem to be impressed," said Piotr Matys, senior foreign currency exchange analyst at in Touch Capital Markets.
While Hungary initially led the European Union with the most aggressive monetary tightening during the summer, central bankers have since slowed their campaign, citing the threat to economic recovery from a new wave of coronavirus cases. Poland and the Czech Republic have responded to spiking price growth with larger rate increases, while Romania joined in with a quarter-point hike as inflation hit the highest in a decade. 
Meanwhile, cost pressures are rising. Price-growth, which is already the fastest since 2012, is forecast to spiral further in part due to pre-election plans for a $2 billion family tax rebate and a 20% increase in the minimum wage.