Hungary Flags Downside CPI Risks After Keeping Rates Unchanged
(Bloomberg) -- Hungary's central bank said downside risks to the long-term inflation outlook have strengthened before a scheduled comprehensive policy review next month, a signal that policy makers may be ready to forgo further tightening and may consider the need for easing.
The monetary authority looked past the weakest forint in a year to keep borrowing costs near zero on Tuesday, as rate-setters awaited action from the euro area before their September meeting, when Hungary's central bank will publish updated inflation forecasts.
While acknowledging downside risks to inflation, rate-setters in Budapest stopped short of saying any change in policy was imminent. They repeated earlier guidance that price patterns for the second half of the year would be key for monetary policy.
"Lower-than-expected underlying inflation data for recent months and the ongoing deterioration in external activity indicate strengthening in downside risks to the longer-term inflation outlook," the Monetary Council said in a post-decision statement. "In assessing their extent, data to be received in the second half of the year will be decisive."
While global market jitters in the wake of a U.S.-China trade war have pushed the forint within a percent of a record low against the euro this week, easing price pressures are providing central bankers cover to maintain monetary stimulus. Core inflation stripped of the impact of indirect taxes, policy makers' most-closely watched measure, slowed to an annual 3.2% in July and neared the authority's target.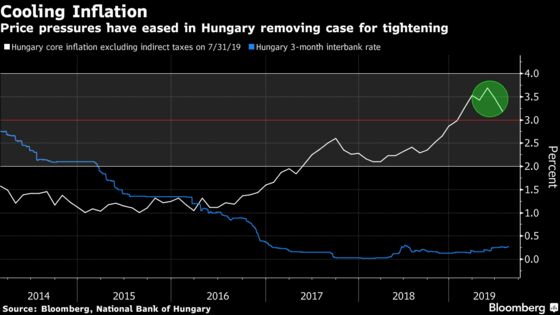 The change in communication, coupled with a recent tide of monetary-policy easing across the globe, means Hungary will probably refrain from taking another modest tightening step next month. In March, the central bank reduced a target of surplus liquidity in the economy and raised the overnight deposit rate. In June, it curbed excess cash in the economy further.
Those steps -- which the central bank has called "very mild" in scope -- haven't dented Hungary's reputation as one of the most dovish monetary authorities in the world.
Years of central bank stimulus have pushed the effective policy rate to 0.26%, below the 0.9% benchmark, resulting in one of the lowest real rates globally. That's helped Hungary's economy grow at the fastest pace in the European Union so far this year.
With more euro-area easing probably on its way in September, some investors have already been predicting an eventual return to policy loosening in Hungary. Money-market traders have priced out all tightening for the next 12 months. Forward-rate agreements suggest the 3-month Bubor interbank rate, the main gauge of financing conditions in the economy, will rise 7 basis points to 0.33% in the last three months of 2020.
"Mitigating domestic inflation pressure coupled with the expected monetary easing in case of major central banks have created room for the National Bank of Hungary to maintain its loose stance," Erste Group Bank AG analyst Orsolya Nyeste said in emailed comments.