Hungary Bonds Rally as Central Bank Scraps Limit on Debt Buying
(Bloomberg) -- Hungary's government bonds extended a rally after the central bank scrapped a limit on how much longer-dated debt it can purchase under its quantitative-easing program and vowed to curb market volatility.
The yield on 10-year forint-denominated notes slumped 15 basis points to 2.74%, heading for the biggest daily decline since May amid a buoyant day for debt globally. Policy makers said the purchases could go beyond a 50% limit for individual bond series, and that some would be made to help maintain market stability.
The changes will help the authority focus its stimulus measures on the longest-dated debt, which have borne the brunt of a selloff spurred by a spike in U.S. Treasury yields this year. So far, the policy maker has been forced to buy maturities as short as four years due to the lack of available notes.
"Today's decision releases new firepower for the central bank and allows it to mitigate the negative impact of rising U.S. Treasury yields," Marek Drimal, a strategist at Societe Generale SA in London said by email.
The yield on benchmark Hungarian benchmark debt has risen more than 50 basis points over the past two months as investors brace for a pickup in inflation. That's the biggest stretch of losses since the onset of the pandemic in March.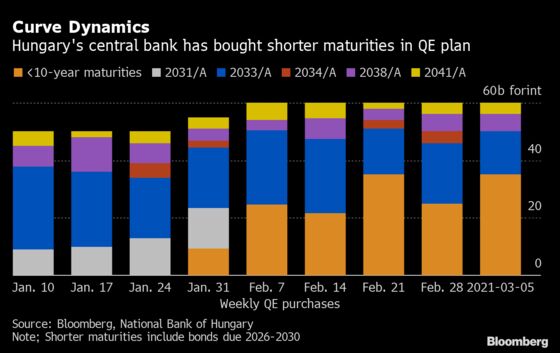 "It is unlikely the central bank can deliver a substantial turnaround in the bond market by itself, as it probably cannot fight the global sentiment, but the central bank can at least smooth out market developments and add liquidity to the system," Drimal said.
The expanded arsenal comes as investors assess whether the central bank will raise short-term rates in response to accelerating inflation and depreciation in the forint. Money markets are pricing 15 basis points of tightening in the next three months, taking the one-week deposit rate to 0.9%, according to forward-rate agreements.
The central bank said weekly purchase volumes would stay unchanged, and the adjustments wouldn't affect the overall stance of monetary policy.