Humming Corporate Profit Engine to Keep Driving Brazil Rally
(Bloomberg) -- The rally in Brazilian companies' shares shows no signs of stopping with high expectations for upcoming earnings.
Uncertainty is easing as Jair Bolsonaro seems poised to clinch the presidency, while the Brazilian real's depreciation was offset by higher commodity prices and a low-rate environment during past quarter. About half of Ibovespa-listed companies will see growth in earnings before interest and other items of above 10 percent, according to data compiled by Bloomberg. The Ibovespa benchmark index is up 20 percent since its 52-week low on June 18.
"Expectations for the third quarter results are high and companies that did their homework tend to stand out," said Adeodato Volpi Netto, head of capital markets at Eleven Financial Research. "The second quarter as a comparison was compromised due to the trucker strike, which could boost the relative growth."
UBS expects Brazilian company revenue, Ebitda and earnings per share to grow by 25 percent, 33 percent and 50 percent, respectively, from a year earlier, according to strategist Sambuddha Ray.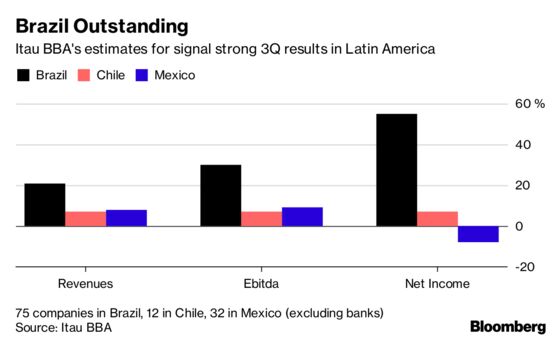 BlackRock's William Landers cited interest rates at record low levels and reforms passed by the current government as supporting financial results. The evidence is clear when seen in comparison to regional peers, according to Itau BBA.
"The main highlight for this quarter is the clear outperformance of Brazil over Chile and Mexico," Itau BBA strategists led by Gregorio Tomassi wrote in a report. The bank projects good results in particular for commodity-driven sectors and industries driven by internal demand, including retailers.
Steel companies should post good numbers on the back of higher domestic prices and improving local volume, according to Morgan Stanley analyst Carlos de Alba. Pulp and paper companies may also report strong results thanks to higher shipments, stable pulp prices and the weaker currency.
Santander expects positive market reactions to results from Randon SA Implementos e Participacoes, Petroleo Brasileiro SA, Sul America SA and Banco Bradesco SA, while expectiong negative reactions from Cielo SA, Raia Drogasil Sa, Cia Hering and Ser Educacional SA.