Diamond Sports Bonds Slide After Hulu Drops Sinclair's Network
(Bloomberg) -- Hulu LLC dropped regional sports coverage provided by Sinclair Broadcast Group Inc.'s Diamond Sports, dealing another setback to the network as its bonds sank to record lows.
"We were unable to reach an agreement with Sinclair Broadcast Group to continue offering channels like your Fox Sports RSN, YES Network, and Marquee Network," Hulu said in a message to subscribers Thursday that was reviewed by Bloomberg. The termination takes effect Friday, with Hulu continuing to provide sports coverage from other channels including ESPN, TNT and TBS, it said.
"While we offered Hulu a deal consistent with terms agreed to by other distributors, the streaming service refused to accept these fair and market-based terms," Barry Faber, Sinclair's president of distribution and network relations, said in a statement sent to Bloomberg. "It is unfortunate that Hulu has chosen to take away some of the most popular programming on TV from millions of subscribers, particularly given that Hulu has promised its subscribers that it has live sports."
Hulu, owned by Walt Disney Co., didn't respond to messages, and a Disney representative didn't have an immediate comment. Some of Disney's other properties also compete for the right to telecast games, such the ESPN sports network.
Notes issued by Diamond Sports set record intraday lows Thursday and ranked among the high-yield market's biggest losers. The first-lien notes due in 2026 dropped as much as 4 cents on the dollar 62 cents, according to Trace pricing data. The 2027 unsecured bonds fell as much as 2.25 cents on the dollar to 46.5 cents.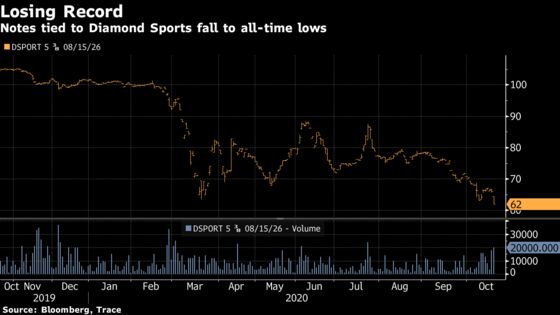 Sinclair bought Diamond Sports from Disney in 2019 for $9.6 billion and financed the deal with junk bonds, only to see them slump to distressed levels amid slow progress on getting carriers locked in.
More damage piled up when the Covid-19 pandemic temporarily halted most live sports, leaving almost no games for its 23 networks to televise. Diamond's portfolio of broadcast rights includes Major League Baseball, the National Basketball Association and the National Hockey League.
Hulu's decision is the latest blow for Sinclair and Diamond, which have been losing carrier deals with pay-TV distributors in recent weeks. Last month Sinclair said YouTube TV will no longer carry its regional sports, adding that talks will continue.
"The loss of carriage on YouTube TV adds to the list of the struggles the regional sports networks in general are having with the over-the-top side of things," Bloomberg Intelligence analyst Mike Campellone said at the time of the announcement.
The company had some success in July when it signed a multiyear agreement with Comcast Corp. to carry all its television stations and regional sports networks on cable. This includes Marquee Sports Network, which features baseball's Chicago Cubs; the YES Network, which handles New York teams including the Yankees, the NBA's Nets and WNBA's Liberty; as well as continued distribution of Tennis Channel.
On its second-quarter earnings call, management said it has about 85% of its subscriber base locked in for at least two years. Sinclair's contract with Dish comes up in 2021.
Losing Hulu "isn't a financial catastrophe for Sinclair, but points to the risks of increased cord-cutting as pay-TV operators push back on the high costs for sports," Geetha Ranganathan, a Bloomberg Intelligence analyst, wrote in an updated report Thursday.
Diamond needs the revenue to support its heavy debt load, which stood at nearly $8 billion according to a second-quarter statement. In May, as the pandemic was raging, Sinclair tried to ease the burden by asking junior bondholders to accept an exchange that would slash their principal by about half, in return for almost doubling the interest rate and a stronger claim on the company's assets.
The deal flopped, attracting only $66 million of the $1.8 billion in notes that Sinclair sought to retire. "We believe the lenders' decision not to exchange indicates their belief in the long-term positive value of Diamond," Sinclair Chief Executive Officer Chris Ripley told investors in August.
Credit investors had organized to oppose the debt exchange, hiring legal advisers from law firm Stroock & Stroock & Lavan, Bloomberg reported in May. Unsecured bondholders also brought in PJT Partners as investment bankers in recent weeks, according to people familiar with the matter.
A separate group of first-lien holders organized and hired lawyers at Gibson Dunn & Crutcher to represent them in future debt talks, the people said. The company is getting advice from investment bank Moelis & Co., the people said.
A representative for PJT and Moelis declined to comment. Stroock and Gibson Dunn didn't immediately return messages seeking comment. The Wall Street Journal previously reported some of the adviser names.