Huawei Suppliers Shrug Off Ban and Choose to Outperform Instead
(Bloomberg) -- Questions continue to linger around how long U.S. companies will be allowed to do business with Huawei Technologies Co.
But one thing is clear, investors who bet on the suppliers of the highly scrutinized Chinese technology firm have been winners so far.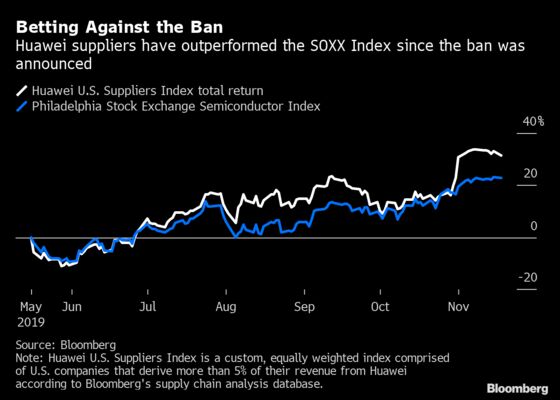 An equal weighted index of nine suppliers who generate more than 5% of their revenue from Huawei has returned 31% since the ban was announced in May, according to data compiled from Bloomberg's supply chain analysis database. That's more than eight percentage points higher than the Philadelphia Semiconductor Index's 23% gain during that time frame.
The Commerce Department blacklisted Huawei in May in an attempt to stop American businesses from selling components to a company the White House has accused of being a threat to America's national security. Since then it has continued to issue extensions that allow companies to sell parts to the Chinese technology firm. That happened again on Monday as Secretary of Commerce Wilbur Ross announced a limited extension of 90 days.
"The temporary general license extension will allow carriers to continue to service customers in some of the most remote areas of the United States who would otherwise be left in the dark," Ross said in a statement Monday. "The department will continue to rigorously monitor sensitive technology exports to ensure that our innovations are not harnessed by those who would threaten our national security."
Three of the Huawei suppliers, NeoPhotonics Corp., Inphi Corp. and Qorvo Inc. have gained more than 50% since the ban.
Suppliers, such as Micron Technology Inc., may have been taking advantage of a loophole that exempts computer chips that have less than 25% of their technology originating in the U.S.