South Korean Bonds May Be a Haven for Investors in 2019, HSBC Says
(Bloomberg) -- South Korean notes may serve as haven assets for investors next year as financial-market volatility could increase, according to HSBC Holdings Plc, the nation's biggest offshore bond arranger.
International debt sales by Korean issuers rose 6 percent this year to $34.8 billion, set for the biggest total since 2012, according to Bloomberg-compiled data. Shinhan Bank and Hyundai Capital Service Inc. were among the largest issuers in 2018.
"Korean issuers will continue to enjoy access to the U.S. dollar capital markets as investors view this jurisdiction as a safe haven," Sangho Rhee, managing director and head of DCM at HSBC Securities in Seoul, said in an interview. A diversified investor base which is less susceptible to spread volatility "should bode well for Korean issuers as investors become more selective," he said.
As tensions on the peninsula ease, the cost of insuring the nation's sovereign bonds against nonpayment has dropped 16 basis points this year to near the lowest since 2007, according to CMA data. That compares with a 24 basis-point increase in a credit-default swap index covering Asia excluding Japan.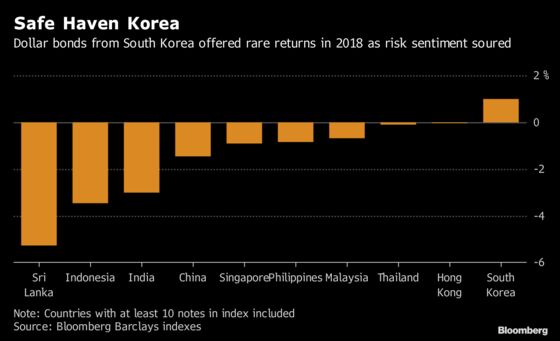 Korean offshore issuance may slow slightly next year to about $32 billion due to lower volumes from financial institutions and private companies, Rhee forecasts
Issuers may find it harder to price notes at attractive levels due to possible policy tightening by central banks, continuing geopolitical tensions and possible negative news from emerging economies, he says
Finding the right issuance window through careful market monitoring will become more critical, Rhee says
To diversify funding amid an expected increase in market volatility in 2019, 35 percent of new issuance may be in currencies other than U.S. dollars, Rhee said; he sees more sales of Japanese yen, euro and Chinese yuan bonds, given improved investor sentiment; the Chinese yuan could be another active new issue market depending on the development of the discussions between the U.S. and China
Delayed implementation of IFRS 17 would give some breathing room for Korean insurers; they wouldn't hurry to issue capital bonds, he said
Green, social and sustainable bond issuance will see continued increases considering that there's still active discussion in the primary market about financing and there are favorable market conditions in the sector, according to Rhee