How BOJ Crushed Trading in Japan's $10 Trillion Bond Market
(Bloomberg) -- When Tadashi Kikugawa arrived on the Japanese bond desk at Fuji Bank in 1988 after finishing a college degree in physics, he had to get to grips with a market with "huge" fluctuations. Trades worth $1 billion in one shot weren't unusual, he says, and they would often send yields seesawing.
Fast forward three decades and the market for Japanese government bonds -- JGBs -- is very different. Gone are the days of wild swings, and sometimes the market doesn't move at all. On one Tuesday in March there wasn't a single trade in the benchmark 10-year Japanese government bond.
"That was very sad," Kikugawa said in a recent interview in Tokyo. "We used to say that volatility was your friend. There's no friend anymore."
To understand the degree to which the bond market has changed -- frustrating life for the erstwhile traders who once made their living from it -- it helps to look at the unusual life of Japan's current 10-year note. Here, the influence of the Bank of Japan is on full display, making for dramatic changes to the structure of the world's second-biggest market for government debt.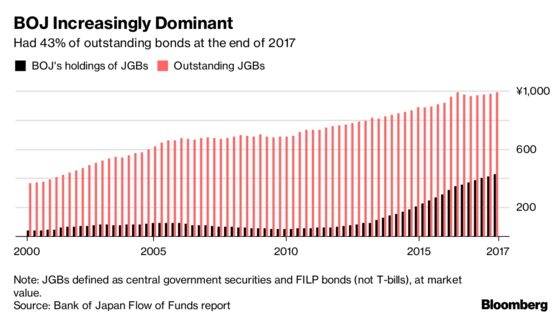 Ten-year bond number 350 was born on March 1, created to refinance a small sliver of the 1.1 quadrillion odd yen ($10 trillion) worth of Japanese public debt. The bulk of that is a legacy of massive public spending starting in the early 1990s in an effort to save the Japanese economy from a death spiral sparked by plunging asset prices.
March's 2.3 trillion yen auction of the new 10-year was taken up largely by primary dealers who buy the bonds directly from the Ministry of Finance, with other securities companies making up most of the rest. Mitsubishi UFJ Morgan Stanley nabbed about 21 percent of the total.
Within days, the Godzilla of Japan's bond market moved in and began pushing the private-sector players aside. The BOJ doesn't buy the bonds at auctions because, for one, it's illegal. Directly underwriting government debt -- "monetization" as it's known -- is supposedly a no-no because it could trigger a collapse in confidence in the currency. The story goes that that's what happened in Weimar Germany in the 1920s, triggering hyperinflation and economic catastrophe.
The BOJ might not be underwriting the debt directly, but it barely waits for the figurative ink to dry before it snaps up JGBs in the secondary market. By the end of March, it held 11 percent of Bond 350, and today it owns 49.5 percent. (It has more than three quarters of its slightly older sibling, Bond 349.)
Bond 350 has a coupon of just 0.1 percent -- a testament both to both BOJ policy and decades of low (or no) inflation. For some private-sector employees, this coupon is also the rate of return on their pension savings -- one reason, perhaps, that many Japanese are so reluctant to spend.
In a year that's featured a surge in volatility round the world, Bond 350 has experienced barely a twinge. While yields on the benchmark U.S. 10-year note have swung more than 40 basis points since the start of March, Bond 350's has varied by only 4.5 basis points. That's by design: the central bank targets 10-year yields at around zero, to hold down Japan's borrowing costs and -- it hopes -- trigger growth and inflation.
The high point for the yield so far came March 2, a day that saw speculation about the BOJ finally establishing an exit plan for its mega-stimulus. Unlike the Federal Reserve or European Central Bank, the BOJ, more than five years into its unprecedented bond-buying program, has avoided presenting a road map for how it would "normalize" policy.
Investors thought they were getting a tip that day, when Governor Haruhiko Kuroda appeared at parliament for a confirmation hearing to win a second five-year term. Kuroda said the central bank would be considering an exit from stimulus "around" 2019 -- not particularly exact, maybe, but a timeline he used for the first time. That was good enough to send Bond 350's yield up as high as a whopping 0.065 percent.
The excitement, such as it was, died down four days later, when Kuroda clarified in a second hearing that while it was possible the BOJ would be thinking about an exit in 2019, that didn't mean it would actually start it then.
Just a week later would see Bond 350 do something extraordinary -- by doing nothing at all. That day the security wasn't traded a single time, according to Japan Trading Co. data. (There was also no benchmark one-year yield that day. For the whole month of March, one-year bills traded on only three days; things picked up slightly in April, when there were four active days.)
Overall, trading volumes in JGBs were down 58 percent last quarter on average compared with 2012, the year before Kuroda took charge and unleashed a massive step-up in bond buying. The BOJ's bigfooting of the market means it now holds more than 41 percent of all the marketable central government bonds and bills outstanding -- up from 13 percent the month Kuroda took office.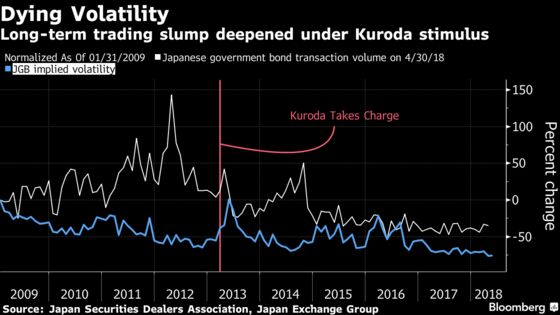 "The BOJ is like Almighty God for the bond market -- bond-market participants are wrapped around their finger," says Hiroyuki Kubota, who first traded JGBs in the 1980s at Mito Securities Co. and is now an independent financial analyst. He worries that the structure of the market has been weakened, thanks to a thinning out of the ranks of proprietary traders that financial offices in Tokyo once teemed with.
That could present challenges whenever the BOJ does exit from stimulus. As Kubota puts it, "there are few people who make a contrary trade, or a buy when bond prices fall sharply -- meaning bond prices could get into free-fall."
The case of 2003 offers a warning of how quickly yields can jump when a BOJ shift is signaled. Ten-year JGB rates surged more than a percentage point that summer, to 1.69 percent. They averaged about 1.33 percent over the decade before Kuroda took charge.
The central bank has squeezed out other buyers, including dozens of small and medium-sized regional banks that had depended on JGBs as a reliable way to secure decent returns on their deposit bases. Those banks needed the JGB market to help fill a gap left as Japan's hinterland depopulated, leaving fewer households and companies for lenders to extend credit to.
Not only are there now fewer bonds for regional banks to buy, there's practically no return, thanks to the central bank setting yield targets so low. And the BOJ's stance is unlikely to shift for some time to come -- perhaps until after Kuroda and his team see the economy past a scheduled sales-tax hike in October 2019. Meantime, the squeeze on Japan's regional lenders has prompted fears that many such banks, like JGB traders, will fade out of existence.
But there's still money to be made in Japanese bonds, says Kikugawa, who came out of a brief retirement to join Nomura Holdings Inc. He's marketing an index of JGBs to pension funds that takes advantage of the shape of the yield curve -- however flat -- to provide what his research suggests will be extra returns relative to the benchmark.
"What has not changed is the market still has anomalies," Kikugawa says.
Others are glad to have moved on. As Bond 350 languishes in its narrow price range, traders are branching out.
"I am lucky that I can trade currencies, not only JGBs," says Tsutomu Soma, who heads the financial advisory department at SBI Securities Co. in Tokyo. "A decade or so ago, it was still OK to trade JGBs, as they moved every day and you had chance to make money. Now, it's a dead market."