How Mario Draghi Can Do Italy a Massive Favor
(Bloomberg Opinion) -- Mario Draghi has a fine line to walk at Thursday's press conference after the meeting of the European Central Bank's governing council. Bond investors will be watching closely to see how the ECB president responds to questions about Italy, and if there's anything to be gleaned about whether future policy might be good or bad for the country's bond yields.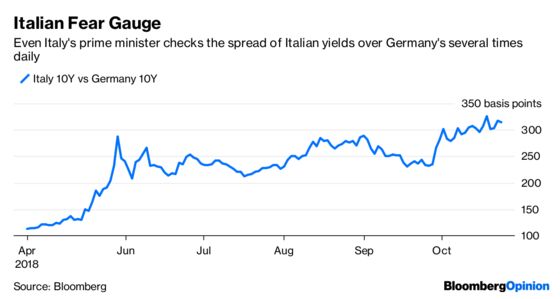 The EU has had its say: It wants Italy's populist rulers to rethink their rule-breaking budget plans. But investors want to hear the ECB's response, if there is one. Draghi has no reason to want to help out the League and Five Star coalition, but there are ways that changes in ECB policy might help calm Italy's elevated yields – even if that's not the intention.
Draghi has set out a clear path for the ECB's program of quantitative easing to come to a halt at the end of this year and he'll probably reaffirm that intention. But it's certainly possible that he tempers his moderately hawkish tone. The Bundesbank's monthly report on Monday said German growth may have come to a temporary halt in the third-quarter. Meanwhile, a composite euro zone purchasing manager's index for October posted a surprise drop to 52.7 from 54.1 in September, showing the slowdown appears to have carried on into the fourth quarter.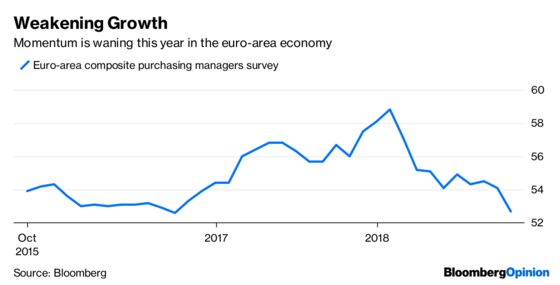 There are two wild cards related to the end of QE that the ECB needs to decide on soon, which would affect broad investor sentiment on  European bonds – although it could chose to wait until its final council meeting of the year on Dec. 13.
The first is how it means to reinvest its existing QE stock of 2.53 trillion euros ($2.9 trillion) and how far it puts the cash from maturing bonds back to work. This might see the central bank keep its market presence even though it's no longer making additional bond purchases.
Extending the time period for reinvesting from the current "within three months" would be the simplest way to do this. Another option is buying longer-dated bonds to extend the overall duration of the QE portfolio. If the ECB wanted to be really bold about not shrinking its position, it could even reinvest maturing bonds from one country into other nations' securities. Though that might be unacceptable to some core countries such as Germany.
Second, the ECB's so-called "capital key structure" is due for its five-yearly revision at the start of 2019. The QE bond-buying program is configured to reflect the proportional share of each euro zone country's gross domestic product and population. Both Italy and Spain would expect to see their respective percentages fall from the 2014 calculation by about 7.5 percent. Theoretically that could mean the Bank of Italy would have to dispose of 28 billion euros of its government bond holdings, something that the populist government wouldn't take kindly to.
So there's a question of whether any shift to a lower share would be a one-off move or gradually scaled in. The ECB doesn't just have to keep Italy in mind. There's the potential risk too of any Italian fallout spreading to previous bailout countries such as Spain and Portugal. Both have seen some modest widening of their spread to Germany recently.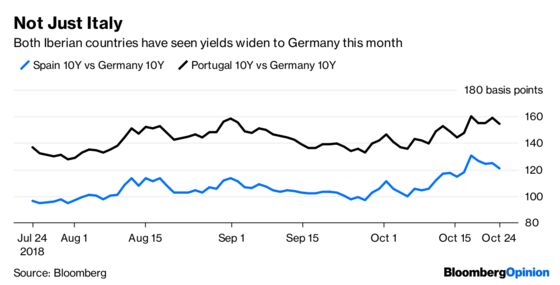 As I said above, the ECB has little incentive to become Italy's savior and skew any decisions in its favor. But it does have the capacity to make life more difficult or easier depending on how it interprets its rules. Investors will be watching Draghi carefully for any clues.
This column does not necessarily reflect the opinion of the editorial board or Bloomberg LP and its owners.
Marcus Ashworth is a Bloomberg Opinion columnist covering European markets. He spent three decades in the banking industry, most recently as chief markets strategist at Haitong Securities in London.