U.S. Vaccine Rates in Kids Mimic Covid-19 Shot Gaps in Adults
(Bloomberg) -- The rate of Covid-19 vaccination in children ages 5 to 11 varies widely among states, according to data released by the Centers for Disease Control and Prevention, mimicking the wide gaps seen in the adult population. 
Some states, such as Vermont, have vaccinated 27% of their 5 to 11 population. Others, particularly in the Southeast, have rates below 5%. 
At least some of the difference may be from delays in reporting. The CDC's data lags the situation on the ground by several days, and the vaccine effort in young children is still only a few weeks old. A handful of states have clear data issues, as well: Idaho's CDC figures show no data for children ages 5 to 11, and Maryland's CDC data is far below what the state itself reports.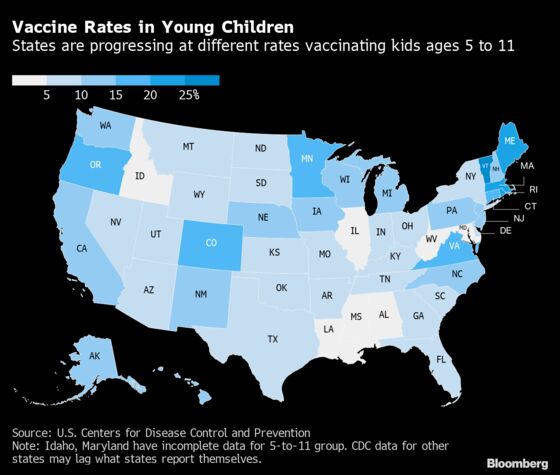 In total, the CDC shows that 2.84 million young children, or 10% of that population, have received at least one dose of a Covid-19 vaccine. Vaccines for young children were cleared for use by the government on Nov. 2. 
After a rapid start to vaccinations early in 2021, the U.S. program tailed off. Some states have vaccinated large shares of their eligible residents, while pockets of hesitancy and resistance showed up in some places, and vaccine efforts slowed. Many of those places with lower vaccination rates were hit hard by a wave of delta-variant Covid cases.
Hospitalizations among young children are far below rates of adults, but hit a high point over the summer months before falling shortly thereafter. They are now on a slight uptick again, matching a rise in cases seen across the U.S. as the weather cools.