How Italy Is Getting a Grip on Its Bad Loan Problem — in Charts
The cleanup of Italy's banks is accelerating, according to the Bank of Italy.
Lenders of the euro area's third-largest economy are still struggling to work off the pile of non-performing loans they accumulated during the crisis. This legacy not only choked credit and put a brake on Italy's already sluggish economy, but it also slowed down the currency bloc's integration, as Germany is wary of potentially paying for the excessive debts incurred in other countries.
Still, new data for 2018 published Thursday by Italy's central bank hints at progress.
Financial institutions dropped 78 billion euros ($87 billion) of bad loans from their balance sheets, almost double the previous year's pace. That's largely a consequence of the securitization of soured credit, with sales rising to 67 billion euros from 33 billion euros in 2017.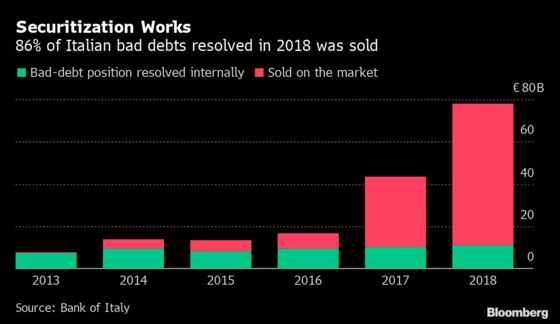 Even more heartening for Italian banks is the fact that both recovery rates and prices have been going up, a sign that the management of delinquent loans improved. Banks usually sell soured credit at 23% of its original gross value, with the ratio rising to 34% for collateralized bad loans.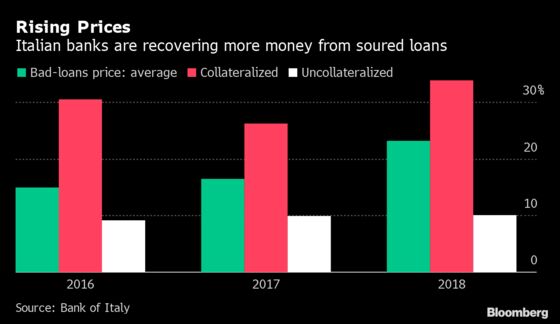 Overall, Italy's pile of NPLs is now less than half its 2015 peak. Still, it remains Europe's largest.