How 648 German Parishes Run Bank Supervised by Missionary Sister
(Bloomberg) -- (Machine translation provided by Google and reviewed by Bloomberg editors)
Its members include 648 parishes, a missionary sister sits on the board and most investment products are subject to ethical and sustainability guidelines.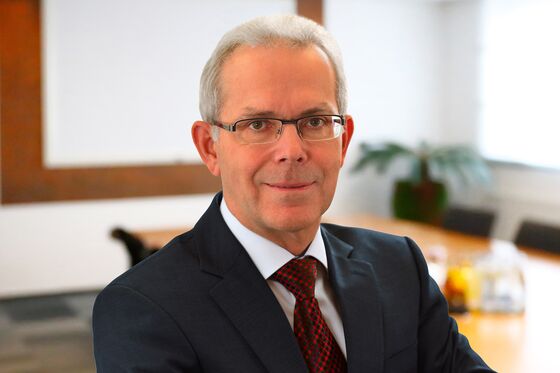 Bank für Kirche und Caritas eG belongs to a small group of little-known German lenders, which are basically owned by church institutions themselves. With low interest rates depressing returns on many traditional assets, those specialized financial service providers have a lot to do these days. They must manage the balancing act of preserving the assets of the churches, while at the same time avoiding investments in controversial sectors or countries.
"Because there are hardly any returns to be made from fixed-interest investments nowadays, more church-charitable institutions turn to us to have their funds managed professionally," Richard Boeger, CEO of Bank für Kirche und Caritas, told Bloomberg. "Last year, assets under management grew by 17.8 percent in our portfolio management." His bank was founded as a financial self-help institution for Roman Catholic churches in 1972.
Other church-backed lenders tell a similar story. Bank für Kirche und Diakonie eG, based in Dortmund, sees an increasing professionalization when looking at investments of its church clients, CEO Ekkehard Thiesler said. "One reason for this is the ongoing period of low interest rates, which has led church investors to reduce the proportion of fixed-income securities and explore new investment opportunities."
Klaus Schraudner, head of Cologne-based Pax Bank eG, comes to the conclusion that low interest rates "make an active asset management more important".
Asset Management Starting at 5 Million Euros
Detailed figures on the total assets of Catholic and Protestant churches in Germany do not exist. However, Carsten Frerk, a political scientist and church expert, has tried estimating them. "On the basis of my own plausible estimates, the two churches, including their business enterprises, have an asset value of around 345 billion euros," he said. "This is without their Caritas and Diakonie organizations, which have a considerable amount of real estate assets."
In their fight against low interest rates, churches are not just seeking help from traditional commercial banks such as Joh Berenberg Gossler & Company KG, but also from their own specialized lenders such as the Bank für Kirche und Caritas. With 120 employees, the latter caters to catholic bishoprics, hospitals and religious communities throughout Germany.
The Paderborn-based lender, which is part of the German network of cooperative banks, offers tailored asset management strategies starting at 5 million euros. Many customers use the bank's sustainability filter for their investments. "For example, companies violating conventions in the field of money laundering, bribery or corruption are excluded," said Bernhard Matthes, head of portfolio management. "Bonds issued by countries with the death penalty or the stocks of arms makers are also taboo."
The filter, however, does not bar investments related to alcohol. "Wine plays a certain role in the Catholic liturgy," Matthes, who formerly worked at Deutsche Bank AG in Luxembourg, added.
In addition to traditional asset management, the bank created three mutual funds for less wealthy investors, which also subscribe to ethical principles. The latest fund was launched at the end of 2016 and invests in bonds from emerging markets. "Numerous emerging markets offer returns that are well above inflation," Matthes said. "Many of these countries implemented structural reforms to achieve stable growth rates, improve their foreign debt and reserve positions and, not least, offer credible protection to investors."
CEO Does Not See Mergers Among Church Banks
Boeger described banking regulation as the biggest challenge. Ever new laws and regulations, which have to be implemented in everyday business, are a burden, he said. "We are forced to expand and change our internal processes at great expense," he added.
In addition to the 648 parishes, the bank is also supported by 328 church charitable institutions and 386 private individuals. Angelika Hellbach, a missionary sister from Paderborn, joined the bank's supervisory board in 2017. Last year, net profit rose to 3.2 million euros, compared to 2.9 million euros in 2016, the annual report shows. Net commission income climbed 42 percent thanks to asset management as well as portfolio services and portfolio advisory.
According to figures by the Deutsche Bundesbank, the number of lenders in Germany shrank by 65 to 1,823 in 2017 as consolidation in the industry continued. Boeger, however, does not see any pressure to merge among the country's church banks. "All are making money," he said. "From an economic point of view, mergers are not necessary."
Original Story:
Wie deutsche Kirchen mit eigenen Banken ihr Vermögen schützen
Reporter on the original story: Stephan Kahl in New York at skahl@bloomberg.net
Editor responsible for the original story: Erhard Krasny at ekrasny@bloomberg.net