How Europe's Biggest Banks Fared in Toughest Stress Test
(Bloomberg) -- European regulators have conducted their toughest test of how resilient banks are to shocks like Italy's bond slump and economic fallout from Brexit.
The test showed banks would see the aggregate key measure of financial health fall by almost 4 percentage points to 10.1 percent in the scenarios for a severe economic downturn, according to the European Banking Authority. While there's no pass or fail grade, the outcome of the stress test is important because it helps determine whether banks need more capital or if they can instead increase shareholder dividends and staff bonuses.
Here are charts to help measure the performance of individual banks among the EBA's sample of 48 lenders.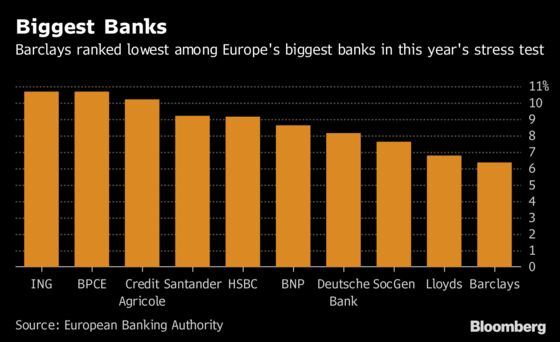 Barclays Plc had the lowest common equity Tier 1 ratio in the test among Europe's 10 biggest banks by assets. Over the test's three-year horizon, 25 banks would have faced regulatory restrictions and decreased payouts by 52 billion euros ($59 billion).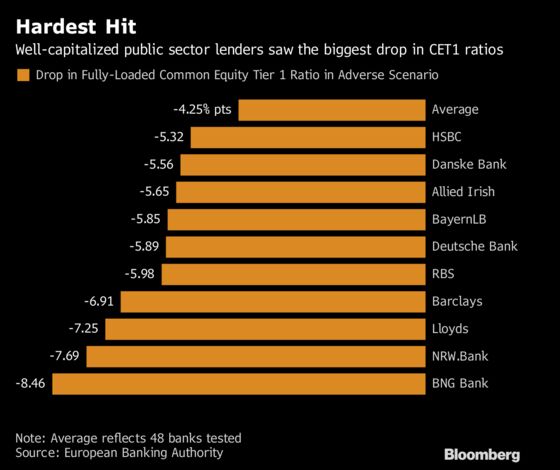 A German development bank and a sustainability lender from the Netherlands with sizable capital cushions recorded the biggest drop in their CET1 ratios. Several commercial lenders from the U.K. and Germany were close behind.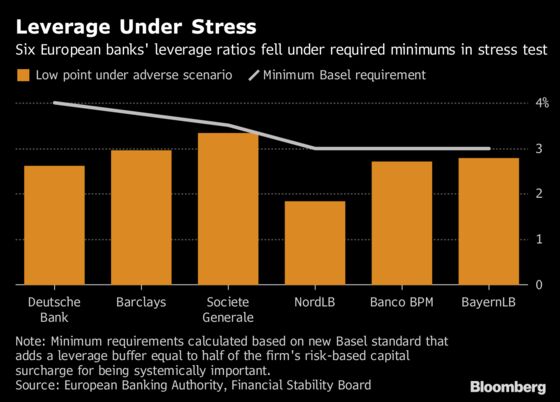 Under a capital measure that ignores the riskiness of assets, Deutsche Bank fared worst, falling 1.39 percentage points below a new minimum that's based on the largest lenders' systemic importance. European financial firms detest the leverage ratio requirement -- which had been used in the U.S. for several decades before becoming global after the 2008 crisis -- arguing it overstates their low-risk exposures such as mortgages.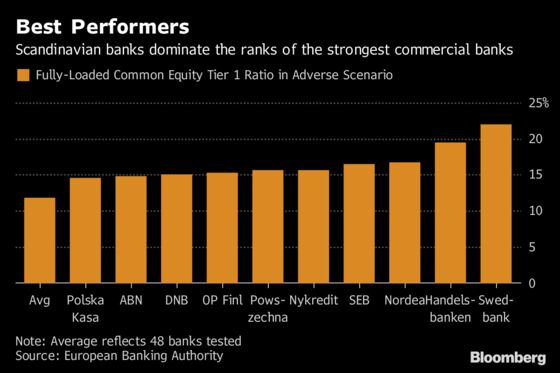 Scandinavian banks, which have long had some of the highest capital ratios in Europe, made up the largest share of lenders that maintained the best levels of financial strength.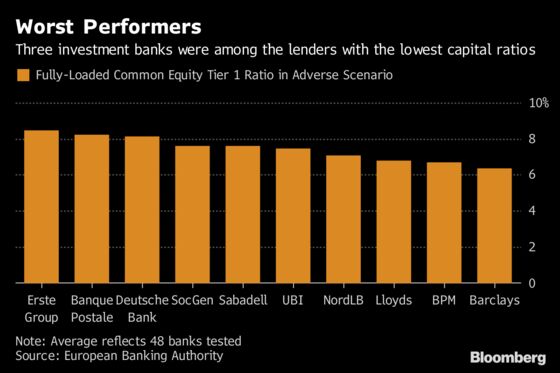 Barclays also had the lowest capital level of the wider group of banks. It was in good company with other firms heavily exposed to investment banking: Deutsche Bank AG and Societe Generale SA were also among the banks at the bottom of the scale.
Still, stress tests are becoming a more routine affair. In Europe, regulators stopped delivering pass or fail grades with their last exam in 2016, which was criticized at the time for its limited scope. In 2014, 25 out of 130 banks failed in the largest-ever exercise, which aimed to restore confidence and end a two-year slump in lending that had choked off Europe's economic recovery.