How Cardi B's Data Bill Helped to Boost Ghana's GDP Growth
(Bloomberg) -- Actor Samuel L. Jackson and rapper Cardi B traveled to Ghana last year to commemorate the first departure of African slaves to the U.S. 400 years ago. Their data bills helped to boost the nation's economy.
Ghana's information and communication services expanded by 47% in 2019, aiding an acceleration in the growth of gross domestic product to 6.5%, from 6.3% the previous year, according to a release Wednesday by the statistics office. Growth in activity at restaurants and hotels almost doubled to 6% over the same period.
Ghana named 2019 'The Year of the Return' to commemorate the start of the slave trade in the U.S. in August 1619 and attract people of Ghanaian origin. Apart from Cardi B and Jackson, others who made the trip to West Africa for the campaign included model Naomi Campbell, actor Danny Glover and comedian Steve Harvey.
In the fourth quarter, with many of the events that happened in December, GDP expanded at the fastest rate since 2017.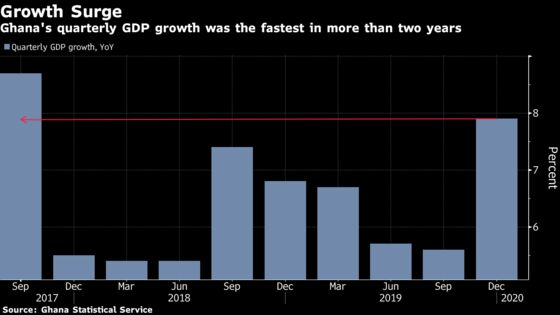 The growth in information and communications "was mainly due to a hike in data usage for the period, buoyed by the influx of guests for the homecoming events," said Francis Mensah, the head of national accounts at the statistical agency.
The local unit of MTN Group Ltd., Ghana's biggest telecommunications provider, reported in February that its income from data usage grew by almost a third in 2019. Other factors contributing to growth in the sector included investments in more services by companies such as MTN and the benefits stemming from digital migration, said Alex Boahen, head of research at Databank Group in the capital, Accra.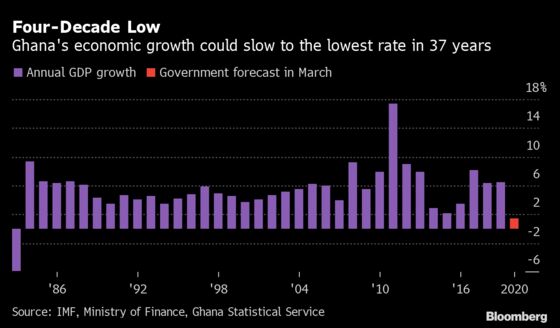 The outbreak of the coronavirus will now halt three years of economic growth of 6% or more as the country closed its borders for human traffic to contain the spread of the disease. Finance Minister Ken Ofori-Atta revised the outlook to as low as 1.5%, from an initial target of 6.8%.