How an HIV Trial Triggered a 667% Jump in Australian Penny Stock
(Bloomberg) -- The name is Biotron Ltd., and before it's five-day 667 percent rally, it had a share price of just 2 Australian cents.
The Sydney-based drug company with just five full-time employees last week announced the "successful" outcome of a phase-two trial of BIT225 HIV-1 drug and retail investors have been lapping it up. The company said its therapy suppressed the HIV virus more than current antiretrovirals.
"The data shows there are significant immunological benefits in patients receiving antiretroviral drugs with 200 mg BIT225 compared to antiretroviral drugs plus placebo," Biotron said in a statement.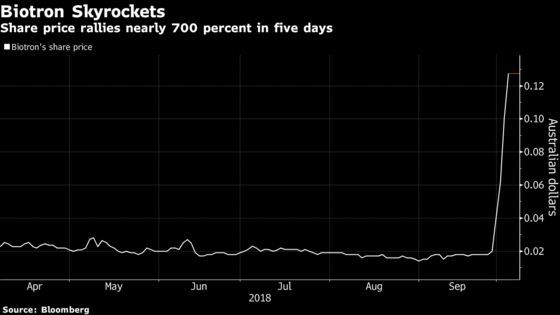 The share price jumped 11 percent the day before the announcement and then another 105 percent after the trial results were released. Since then, it's surged more than 50 percent each day, with the stock climbing to about A$0.14 today.
It's no surprise that penny stocks can make big moves when news is announced. Biotron's rally in the past five days has increased its market value to A$70.3 million (about $44 million) and made it Australia's 11th biggest gainer for the year. BidEnergy Ltd., another penny stock, is the top performer, having surged 567 percent this year.
Biotron plans to present more detailed data at scientific conferences later this year, the company said in its Sept. 28 statement.
Michelle Miller, the company's managing director and a former scientist at Johnson & Johnson, said she'd been watching her stock price soar.
"The Australian stock market is always an interesting place," she said. "Folks tend to over-react to bad news and then when there's good news they react accordingly, but not always."