Housing Jitters Subside in Canada Amid Rising Optimism on Prices
(Bloomberg) -- Canadians seem to have gotten over their recent housing scare.
Polling data from Nanos Research shows 44.2 percent of respondents now expect the value of real estate in their neighborhoods to increase over the next half year. That's the highest proportion since May 2017 and the level has rapidly risen from a recent low of 36.1 percent over the last two months. The level of optimism about price gains is now pushing well past the average over the last five years.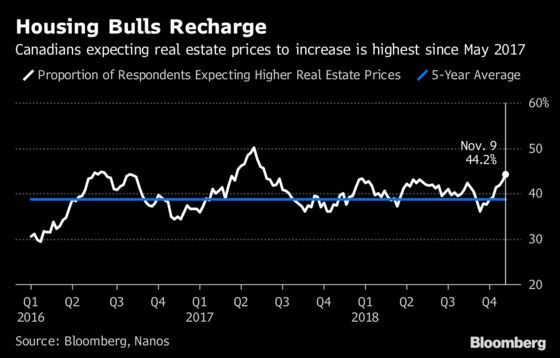 Canada's housing markets got off to a shaky start in 2018 as new mortgage qualification rules and rising interest rates depressed sales activity across the country. Many cities, however, have since seen signs of stabilization -- especially in price behavior.
With optimism about price gains on the rise, there has been a corresponding decrease in the proportion of respondents expecting flat prices. It's now 35.9 percent, the lowest since September 2016 and down from 45.2 percent earlier this summer.
Still, Canada's housing pessimists are entrenched. The polling results show 15.9 percent of respondents expect prices to decrease over the next six months, down from a nearly two-year high of 18.4 percent in September.