Hospitals Become Weak Link in Romania as Virus Death Toll Rises
Coronavirus outbreaks in Romania raised concerns that the epidemic is spreading faster in major cities, including the capital Bucharest, after the death toll rose the most in eastern Europe.
Fatalities rose by 17 to 86 on Wednesday and about 2,500 people had contracted the disease, the government said. Health-care staff accounted for a third of all cases, forcing authorities to step up efforts to contain the outbreaks. Romania's health system is one of its most vulnerable in Europe after years of underfunding.
A massive outbreak at an emergency hospital in the north led to the full quarantine of the town Suceava, serving as a dire warning to the rest of the country. Only a day later, three major hospitals in Bucharest reported a surge in the number of infected health-care workers. Placing the capital in full lock-down is not yet an option but cannot be ruled out in the near future, Interior Minister Marcel Vela said.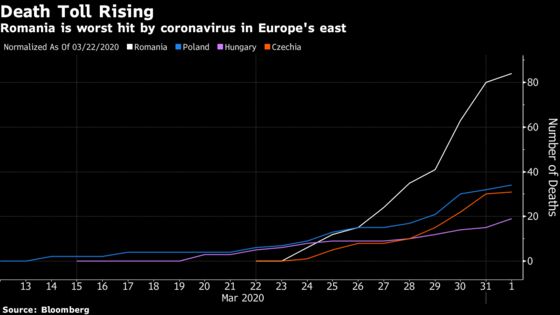 "We have taken all measures to protect citizens' health and to ease the job of medical staff," President Klaus Iohannis said. "We're going through a very serious crisis and it's paramount that we respect the law and the emergency rules."
Like other countries in eastern Europe, Romania acted quickly in approving social distancing measures to limit the spread of the virus. It shut its schools, borders and most shops and other public venues starting on March 11 in a bid to prevent hospitals from becoming overrun. It has fewer than 2,000 ventilators for a population of almost 19 million.
Other countries have imposed even stricter rules, with Bulgaria, Slovenia and Croatia banning all travel between cities except for vital reasons, while Serbia has imposed a 5 p.m. to 5 a.m. curfew on its citizens.
Poland has forbidden people from leaving home unannounced, while the Czech Republic and Slovakia are imposing steep fines to anyone failing to wear masks while outside.
The measures may have helped reduce fatalities, with Bulgaria reporting only nine deaths, Croatia six and Slovenia 15. Poland has reported 36, the Czech Republic 32, and Slovakia has reported none.