Hong Kong Lifts Second Lockdown in Kowloon for Covid Tests
(Bloomberg) -- Hong Kong lifted a second neighborhood lockdown in part of the densely-populated Kowloon area after the city completed a round of virus testing aimed at containing a winter wave of coronavirus cases.
The government tested about 330 people and found one confirmed case, it said in a statement, after the roughly 12 hour lockdown of a small part of Kowloon's Yau Ma Tei neighborhood that started at 7 p.m. local time on Tuesday.
The zone is near where a targeted, two-day lockdown took place over the weekend that tested about 7,000 people. That operation, which involved scores of government workers wearing full protective equipment, was Hong Kong's first such move since the global pandemic began.
"The operation last night was successful," Chief Secretary Matthew Cheung, Hong Kong's No. 2 official, said on the sidelines of a Legislative Council meeting Wednesday. This style of operation -- "surprise, quick and targeted" -- will be used more often in the future, he said.
The city is expected to report more than 60 confirmed coronavirus cases Wednesday, local media including Cable TV and Hong Kong Economic Times reported. It found 64 cases Tuesday, a third among them untraceable.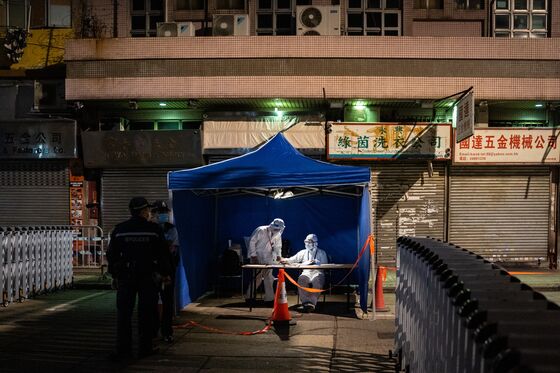 The city has generally deployed a mix of social distancing measures ranging from public gathering bans and shortened business hours, to the temporary closure of businesses deemed high risk like gyms and bars.
The government had earlier warned that it would implement such lockdowns as needed in order to battle the fourth wave of Covid-19 cases in the city.
"In the control of infectious diseases, we cannot underestimate any source of infection," Chief Executive Carrie Lam said in a Facebook post Wednesday morning. "The government's next goal is to make good use of anti-epidemic tools to get ahead of the infection in the community and gradually achieve 'zero cases'."
The ultra-dense city of 7.5 million -- which was scarred by the severe acute respiratory syndrome, or SARS, outbreak in the early 2000s -- has just over 10,000 total coronavirus cases and 172 deaths since the pandemic began.
However, there has been growing frustration about the sometimes erratic nature of the virus measures, which have seen certain businesses and schools shuttered for months on end, sometimes with little warning.
The government has argued that such flexible measures avoid the need for lengthy, draconian lockdowns, which officials view as impractical in a city of tiny apartments, some of which lack full kitchens and bathrooms.