Hong Kong Denies Work Visa to Journalist, News Site Says
(Bloomberg) -- Hong Kong Free Press said the city government rejected a work visa application for a new editor, fueling concerns about press freedom after China imposed a sweeping national security law in the Asian financial center.
Aaron Mc Nicholas was denied a work visa Tuesday after waiting for almost six months and wasn't given a reason for the decision, the publication said in a statement. Hong Kong's Immigration Department declined to comment on individual cases.
"It appears we have been targeted under the climate of the new security law and because of our impartial and fact-based coverage," Editor-in-Chief Tom Grundy said in a statement. "We are a local news outlet and our prospective editor was a journalist originally from Ireland, so this is not another tit-for-tat measure under the U.S.-China trade dispute."
The uncertainty over who is allowed to live and work in the Asian financial hub builds on the concerns about dwindling freedoms in Hong Kong in the wake of the national security law. Earlier this month, police arrested media mogul Jimmy Lai over alleged breaches of the new law and raided the offices of his flagship Apple Daily, the city's largest pro-democracy newspaper.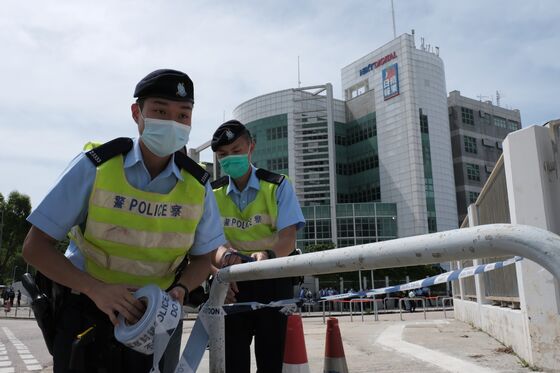 Meanwhile, Hong Kong activist Andy Li was among 12 local protesters detained by Chinese maritime authorities while attempting to flee to democratically run Taiwan on a boat, several media outlets including Radio Free Asia reported Thursday. Li had been released on bail after being arrested on allegations of foreign collusion under the new security law.
The China Coast Guard said in a social media post that the agency had detained about 10 people on suspicion of attempting to cross the border illegally, without providing the full names of the suspects.
Although rare, Hong Kong has rejected visas for journalists before -- Financial Times editor Victor Mallet in 2018 and New York Times reporter Chris Buckley earlier this year. The Foreign Correspondents' Club of Hong Kong this month issued a statement voicing concerns about slow visa issuances to foreign journalists.
Founded in 2015, Hong Kong Free Press is one of a handful of local English-language publications in the city and largely covers domestic news, funding itself through donations.
Before Hong Kong Free Press, Mc Nicholas's last role was at Bloomberg News. A representative for Bloomberg declined to comment.