Honduran President Involved in Cocaine Plot, Prosecutor Says
(Bloomberg) -- The president of Honduras has participated in a violent cocaine trafficking conspiracy, a U.S. prosecutor said at a hearing where the president's brother was sentenced to life in an American prison.
President Juan Orlando Hernandez's brother, Juan Antonio Hernandez, received his sentence on Tuesday for conspiring to smuggle almost 200,000 kilograms of cocaine into the U.S., as part of what prosecutors said was a state-backed trafficking operation that netted him nearly $140 million.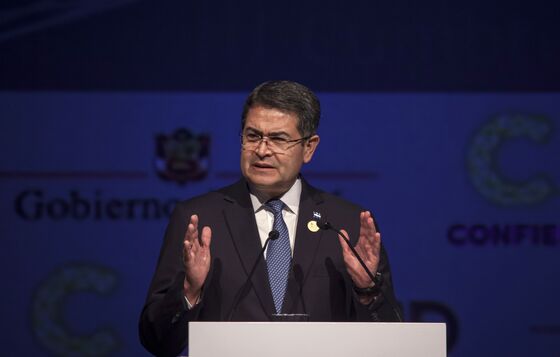 During the hearing, in federal court in Manhattan, prosecutor Matthew Laroche called the brother, known as Tony Hernandez, "a central figure in one of the largest and most violent cocaine trafficking conspiracies in the world." He said Hernandez, 41, and his conspirators "operate Honduras as a virtual narco-state" and that "they are able to do so by conspiring with some of the most powerful people in the country, including his brother, the president of Honduras."
The U.S. has implicated the Honduran president in the conspiracy through multiple prosecutions of other traffickers and Honduran officials in the same court, saying he met with traffickers, promised to protect them and accepted bribes. He has not been charged by U.S. authorities and has denied wrongdoing. The Hernandez government has been one of Washington's allies in the region.
The Honduran president's press office didn't immediately respond to a message seeking comment on the prosecutor's remarks. There was no answer at the Honduran Embassy in Washington late Tuesday afternoon, and no one responded to an email seeking comment.
In a video post on Twitter the president called the case "outrageous."
"It is hard on the family. I do not wish this on anyone," he said in Spanish. "I find it outrageous. It is incredible to me that the false testimonies of confessed murderers are heard and valued in this way. There are other instances, sooner or later it will be proved who is who in Honduras, which is what we have done and we stopped doing because between the earth and the sky nothing is hidden."
On March 24, in a separate drug case in which the president was cited, he called the accusations that he was involved in cocaine trafficking lies told by convicted criminals to reduce their sentences, and said he has remained committed to fighting the drug trade throughout his presidency.
Tony Hernandez, the brother sentenced on Tuesday, was convicted in 2019 after a trial featuring evidence that he worked with traffickers from Colombia, Mexico and elsewhere to turn Honduras into a major way station for cocaine bound for the U.S. over more than a decade. Prosecutors claimed that Hernandez, a former Honduran congressman, protected shipments, carried out murders and even developed his own cocaine supply, branded with his initials.
He also armed traffickers and used Honduran national police as part of the operation, the U.S. alleged. The proceeds of bribes and trafficking were funneled into political campaigns during three Honduran elections, prosecutors said.
Read More: Honduran Man Convicted in Drug Bust Case Involving Hernandez
Hernandez made a long statement in Spanish through an interpreter at Tuesday's hearing, criticizing his lawyers and claiming there was evidence that would prove his innocence. U.S. District Judge P. Kevin Castel said no evidence had emerged to support the claim.
"The defendant and his co-conspirators were indifferent to the consequences of their actions, on the lives of people in their country and this country," Castel said.
President Hernandez took office in 2013 and won a second four-year term in 2017 in a chaotic election that led to rioting and accusations of fraud. Monitors from the Organization of American States said the vote was "low quality" and that they couldn't confirm the result. Hernandez is due to leave office in January after elections in November, in which he isn't running.
The case is U.S. v. Diaz Morales, 15-cr-00379, U.S. District Court, Southern District of New York (Manhattan).