Home Starts Weaken as Dollar Fails to Hold Value Versus Real Estate
(Bloomberg) -- This morning's report on single-family housing starts, which came in at the slowest pace in over two years, highlights the effect of the U.S. dollar's failure to hold its value versus real estate.
At a 758,000 annualized pace in December, single-family housing starts haven't been this low since the 719,000 seen in August of 2016. Still, while starts have risen from their millennium-low of 353,000 seen in March of 2009, they remain under the 957,000 average since 1999.
Single-family starts have dropped about 40 percent this millennium despite the U.S. population having grown about 17.2 percent to around 327 million people over the same time period, according to data compiled by Bloomberg.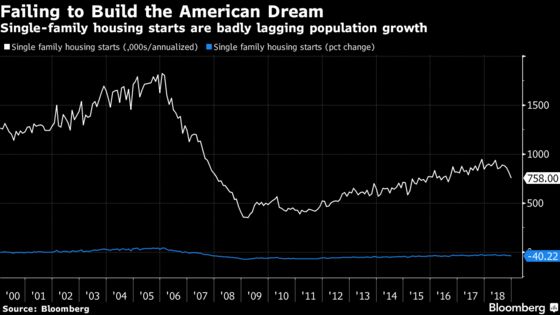 One likely cause for this is the weakening of the U.S. dollar relative to residential real estate. Home prices since 1999 have increased by 113 percent, according to the S&P CoreLogic Case-Shiller 20-City home price index. This has easily outpaced wage growth while making it a losing proposition to save for a down payment in the U.S. dollar.
The mortgage-backed security sector may benefit from this trend at the margins as higher prices depress demand, helping reduce supply. And not just due to a reduced amount of mortgages taken out to purchase newly built homes -- the pace of existing home sales, down about 3 percent this millennium, has also failed to keep pace with population growth.