Home Listings Are Up in NYC Suburbs, Just Not as Much as Demand
(Bloomberg) -- Home listings are increasing in some New York City suburbs, though not enough to satisfy insatiable buyer demand.
Inventory on Long Island -- including the Hamptons and the North Fork -- has been climbing for the past three months as sellers see opportunity to cash in on their long-held properties, according to a report Thursday by appraiser Miller Samuel Inc. and brokerage Douglas Elliman Real Estate.
But the rate of contracts is rising even more.
In the portion of Long Island closest to the city, single-family home listings jumped 69% in May from a year earlier to 3,282. At the same time, purchase contracts soared 162% to 2,551. For condos, listings in the area were up 64%, while deals nearly quadrupled.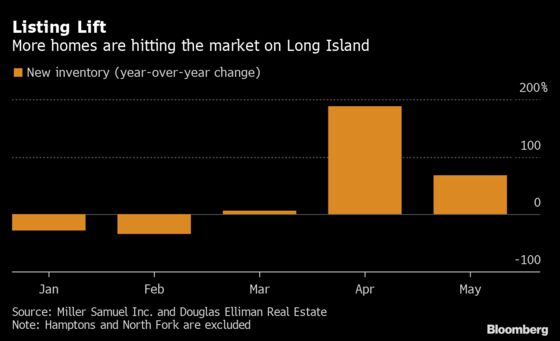 The Hamptons, the beach towns on the island's East End that have drawn city-dwellers seeking a pandemic escape, saw 148 new single-family listings last month, 10% more than a year earlier. Buyers there signed contracts for 145 houses, a 50% increase.
The suburban market "is still strong and improving and it's not failing or weakening because the city is starting to thrive," said Jonathan Miller, president of Miller Samuel. "It's not a zero-sum calculation. It's still pressing higher."
In the city's northern suburbs, inventory is falling as buyers clamor for whatever they can get. Last month, Westchester County saw listings drop 20% from a year earlier to 639, while contracts jumped 81%, the firms said.
In Greenwich, Connecticut, deals more than tripled to 165, while listings slipped 7.3% to 102.