Home Depot Shares Fall After Expenses Climb Alongside Sales
(Bloomberg) -- Home Depot Inc. shares declined after the home-improvement retailer reported higher costs and a plan to spend $1 billion to boost annual compensation for front-line hourly employees.
While same-store revenue, a key gauge of performance for retailers, rose 24% in the quarter ended Nov. 1, that also brought higher expenses. Cost of sales, a measure of what the company spends to generate each sale, was up 24% from a year ago, according to the statement. Part of that is due to protective gear for associates and constant cleaning of the stores.
The Atlanta-based retailer has broadly benefited amid the pandemic of 2020 as consumers divert spending that would have gone to travel and entertainment to improving their homes. Unlike other retailers, like Walmart Inc., that are reporting fewer transactions but larger tickets, Home Depot is seeing gains in both metrics. That means shoppers are placing more orders and they're also buying more every time. Analysts expect the home improvement trend will continue as winter sets in and Americans are forced inside.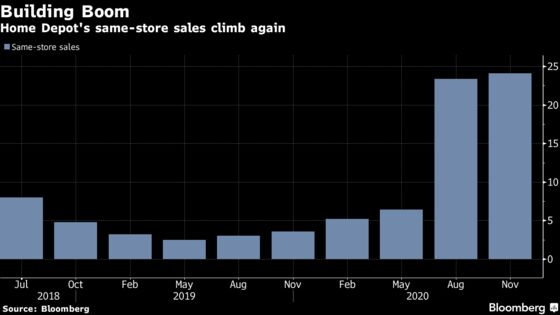 One challenge, however, to Home Depot's business could be within its pro unit, which caters to professional contractors and builders. If the pandemic worsens and further lockdown measures are imposed by some states, that part of the business may taper off, Neil Saunders, managing director of GlobalData Retail, said in a note.
Home Depot is already doubling down on that business: It announced on Monday it would buy building products distributor HD Supply Holdings Inc., reuniting the two companies after they split apart more than a decade ago. In a call with analysts, Chief Executive Officer Craig Menear said he is confident the acquisition will let the company tap into the highly fragmented market for maintenance and repairs that he said is worth $55 billion.
Company executives said the pro business unit is posting the strongest growth it has seen all year.
Home Depot shares fell as much as 2.9% in in New York trading. The retailer's shares had risen 28% this year through Monday's close, outpacing the S&P 500 Index.
In order to prevent crowds from accumulating during the pandemic, the home-improvement retailer started offering its Black Friday sales earlier this year and pushed them online as well. That should position it well during the winter months, generally a slower time of year for improvement chains.
"Looking ahead, we believe Home Depot will have a healthy final quarter. The home continues to be the focal point as we enter the holidays," Saunders said. Still, "spending will need to compete with a wider array of activities, including more travel, food and gifting. This could take the edge off growth -- but only to a marginal extent."