No Housing Alarm Bells (Yet) for Home Depot
(Bloomberg Opinion) -- There has been a steady trickle of gloomy headlines lately about the health of the housing market. But you wouldn't know it looking at Home Depot Inc.'s latest results.
The home-improvement giant reported Tuesday that comparable sales rose 4.8 percent over a year earlier in the third quarter, growth that reflected an increase in transactions as well as higher average checks. The company also boosted its full-year forecast, saying it now expects comparable sales growth of around 5.5 percent and earnings per share of $9.75.  
As I've noted before, these kind of results have become routine for Home Depot, and there are several reasons why I'm not surprised the chain managed to deliver them again this time around.
First off, for all the talk about trouble on the horizon in the housing market, home remodeling is still growing at a healthy rate and should continue to do so in the near future.While the pace of growth is expected to retreat a bit in 2019, the projected rate of change in spending is still expected to be higher in 2019 that it was in, say, 2016. So if Home Depot had little trouble putting up impressive comparable sales growth in the 2016 environment, I see no reason why it can't continue to do so it the year ahead.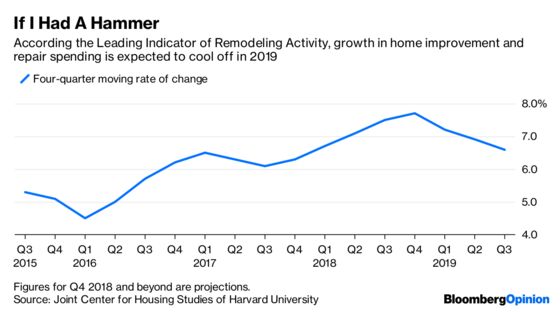 Also, there are plenty of signs that Home Depot continues to effectively court the so-called "pro" customers who are the cornerstone of its business, as well as the do-it-yourself crowd. Efforts such as remodeling stores and focusing on speedier delivery of online orders are an important part of that. In a recent research note, UBS analyst Michael Lasser highlighted survey results from his firm's quarterly study of U.S. consumers' home improvement spending intentions. Home Depot and Lowe's Cos. easily held their leads as shoppers' top choices for these products. Home Depot, though, saw an increase from a year earlier in respondents who selected it as their likely destination, while Lowe's saw a decrease.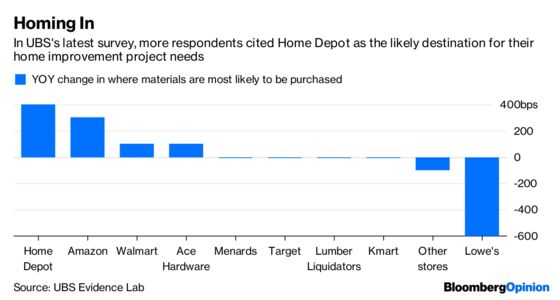 Speaking of Lowe's, I had wondered earlier this year if Home Depot might feel intensified pressure when Lowe's new CEO, Marvin Ellison, began executing his turnaround plan there. But now that we have a clearer idea of Ellison's road map, I don't see much immediate threat for Home Depot.
To be clear, that's not a dig at Ellison's strategy. It's just that his early plans are largely aimed at shoring up operations, such as with better inventory management and smarter labor allocation. Could fewer out-of-stocks and better customer service eventually drive market share growth? Of course. But at least initially, I suspect we'll see Ellison's impact more on profitability metrics than sales.
It's true that other potential challenges loom for Home Depot, such as higher tariffs on certain goods coming from China to the U.S. But Seema Shah, a Bloomberg Intelligence analyst, points out that Home Depot's massive scale makes it better equipped than many retailers to deal with that threat. It should be able to push much of the cost impact down to its suppliers, since those vendors need Home Depot more than the other way around.
Home Depot has been a veritable retail fortress amid the rise of e-commerce and other changing shopping habits. I expect its defenses will also hold up against changes in the housing market and Washington policy in the year ahead. 
This column does not necessarily reflect the opinion of the editorial board or Bloomberg LP and its owners.
Sarah Halzack is a Bloomberg Opinion columnist covering the consumer and retail industries. She was previously a national retail reporter for the Washington Post.