Home Depot Tumbles Most in 21 Months on Weaker Sales Outlook
(Bloomberg) -- Home Depot Inc.'s shares fell as much as 5.6% in New York trading, the biggest decline since February 2018, after the retail giant missed third-quarter sales estimates and trimmed its annual growth outlook for the second time in three months.
Some online investments didn't pan out as early as expected, and the benefits will take longer to materialize, Home Depot said in a statement Tuesday. Same-store sales -- a key measure of a chain's performance -- gained 3.6% last quarter, compared with the average projection for 4.6% growth, according to Consensus Metrix.
The weak performance was all the more surprising since Home Depot had told investors that the second half of the year would be better. Same-store sales have now trailed projections for three straight quarters, a concerning trend for a retailer that's been a consistent top performer this decade, according to Brian Yarbrough, an analyst for Edward Jones.
"Housing is good, but not great like it was," said Yarbrough, who downgraded Home Depot's stock to hold last week. "It's going to be harder for Home Depot to show those outsized gains."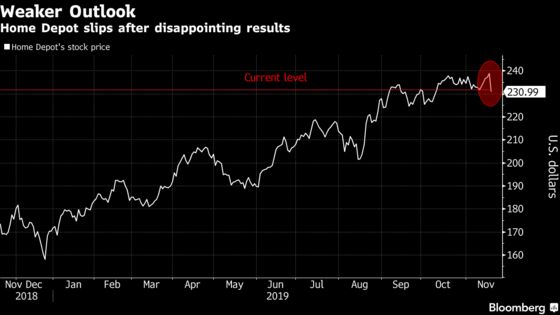 Home Depot gets scrutinized because it can be seen as a harbinger of the American consumer and the real estate market. Still, Jefferies analysts said in a note to investors they interpreted the lighter second-half results to be "more tied to timing of returns on strategic investments" than the sign of a softer macro-economic demand for the home-improvement retailer. The analysts still recommend buying the stock.
The shares were down 5.2% to $226.43 as of 9:47 a.m. in New York. Home Depot had advanced 39% this year through Monday's close, exceeding gains in the S&P 500 Index.
Rival Lowe's Cos., due to report quarterly earnings before markets open on Wednesday, fell 1.4%. One of the big questions entering last quarter was how big of an impact a resurgent Lowe's would have on results. The smaller competitor had posted higher same-store sales growth than Home Depot in the two previous quarters.
Home Depot also cut its outlook for the full year. The company now sees same-store sales growth of 3.5%, down from 4% previously.
The results came even as existing home prices in the third quarter rose 5.1% from a year earlier, boosted by a decline in borrowing costs. Home prices are the economic data point that Home Depot's management cares most about, because when values rise property owners spend more.
"The environment has become slower growth and now you have this competitor, in Lowe's, that's getting stronger," said Yarbrough, the Edward Jones analyst.
Department-store stocks also dropped Tuesday after Kohl's Corp. reported quarterly sales that trailed analysts' projections.