Amazon Borrows Holiday Tips From Retailers It Crushed
(Bloomberg Opinion) -- With Black Friday just around the corner, retailers are revealing their tactics for vacuuming up consumers' holiday gift dollars. And with this year's playbook, Amazon.com Inc. — often vaunted as the industry's pacesetter — is surprisingly taking some cues from the old guard.
It also recently issued a press release about its shipping policies for the holiday rush. Amazon said all shoppers, even those who are not Prime members, can receive free shipping with no minimum purchase on "hundreds of millions" of items. I couldn't help but notice, though, that this announcement came after Target Corp. had made a similar (and in fact speedier) offer, promising free two-day shipping for the season on much of its inventory with no minimum. In other words, Amazon was the follower, not the leader, in this year's shipping smackdown.
These moves show that Amazon sees value in formats it is sometimes credited with destroying and that is starting to feel some pressure in the digital realm from the players it has stomped in recent years. It all adds to evidence of an emerging pattern: For a long time, legacy retailers were trying desperately to become more like Amazon — and, to be clear, they still are. But now, Amazon is also trying to become a bit more like them.
The most glaring example of this was Amazon's 2017 acquisition of Whole Foods Market. That was, essentially, a $13.7 billion acknowledgment that people still like shopping in stores, especially for groceries. But other less-noticed moves also show Amazon sees enduring relevance in traditional retailers' models.
Consider the new Amazon 4-star store, a physical outpost in New York that sells toys, books, games and other items that consumers have rated highly on Amazon's website. Look at the photos and you can't help but note the obvious: It looks kind of like a Papyrus or Hallmark store, only with fancy gadgets. The burgeoning fleet of Amazon Books stores are not all that different from the Waldenbooks I visited in my childhood at the regional mall.
The embrace of the old world is not apparent only in Amazon's growing physical retailing ambitions. I've noted before that Amazon's expansion of click-and-collect online grocery is effectively a concession that Walmart Inc. is on to something with this model. Doorstep delivery, it turns out, is not everyone's definition of convenience.
Oh, and have you ever spent time watching the "Today's Deals Live" video stream that is sometimes featured on Amazon's homepage? It's basically QVC. Malign the home-shopping network all you want for being a desiccating format built for baby boomers, but look at the combined online market share of QVC and HSN, which have the same corporate parent, Qurate Retail Inc.: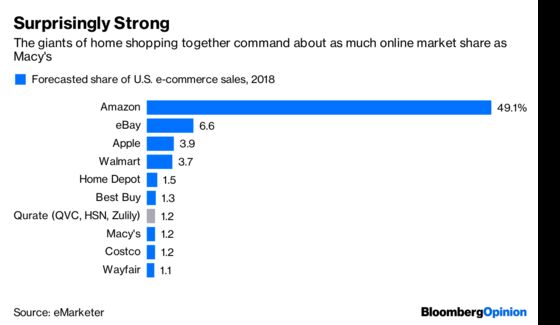 No wonder Amazon keeps trying to find its own QVC-like vehicle. (It earlier launched a shopping show called "Style Code Live" and then quietly abandoned it.)
Of course, in many ways Amazon still very much earns its retail disruptor crown. Its cashierless stores could end up being a transformational model for running brick-and-mortar outposts. I expect shopping by Alexa is going to become a much more common behavior — especially for replenishment-type purchases such as coffee pods or paper towels.
But it is undeniable that Amazon sees opportunity in what established retailers are doing. The old-school chains ought to welcome the validation.
This column does not necessarily reflect the opinion of the editorial board or Bloomberg LP and its owners.
Sarah Halzack is a Bloomberg Opinion columnist covering the consumer and retail industries. She was previously a national retail reporter for the Washington Post.