Hog Futures Crash on Huge Supplies as Cold Boosts Cattle
(Bloomberg) -- There are so many hogs in the U.S. it's causing futures to crash in Chicago.
American pork output last week was 5.7 percent above year-earlier levels, while the industry only expected an increase of 2 percent to 3 percent, Terry Roggensack, one of the founding principals at commodity researcher Hightower Report, said in a note Wednesday. Wholesale-pork prices dropped to the lowest since 2009 on Tuesday.
"Production continues to come in well above trade expectations, and this is helping to keep pork-product prices in a downtrend," he said.
On Wednesday, hog futures for April settlement closed at 52.975 cents a pound, after falling as much as 7.6 percent, or 4.275 cents, to 52.25 cents a pound in Chicago -- a record low for the contract, which debuted in October 2017.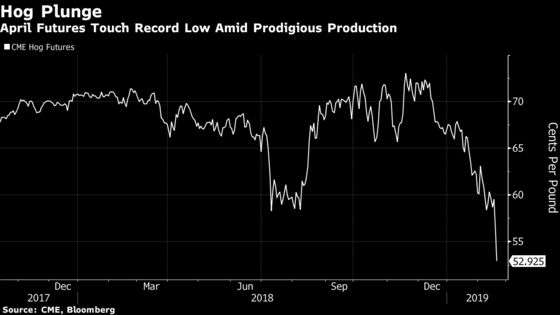 Meanwhile, freezing weather in the U.S. Great Plains and the Midwest is sparking a rally in the cattle market. Cold weather often means animals reach market weights less quickly as they use more energy to keep warm. Cattle futures for April delivery settled up 0.6 percent at $1.292 a pound on Wednesday. Prices touched $1.29475 late last month, the highest ever for the contract that started trading in November 2017.
"The winter weather will not quit, and much of the Plains and Midwest will see mostly below to much below-normal temperatures into the end of the first week of March," Roggensack said.