Governor Unveils Plan to Fix—and Rename—NYC's Penn Station
(Bloomberg) -- New York Governor Kathy Hochul offered her vision for redeveloping Manhattan's Pennsylvania Station and the surrounding neighborhood, scaling back plans championed by her predecessor Andrew Cuomo.
The new proposal focuses on modernizing the existing rail hub instead of building a new terminal, Hochul announced Wednesday. The reimagined Penn Station -- serving Long Island Rail Road and NJ Transit commuters -- will be on a single-level, doubling circulation space on the main hall and adding more accessibility, natural light and escalators.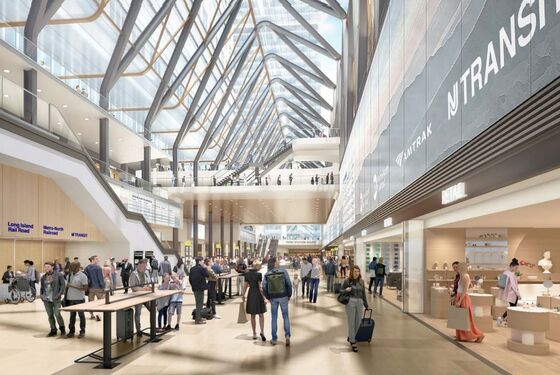 The station will also get a new name: "something to do with how iconic New York State is," Hochul said.
It would be a long-awaited upgrade for the beleaguered train hub that the governor called "depressing." 
"Improving the quality of life for New Yorkers is my top priority," she said.
The overhaul is projected to cost $6 billion to $7 billion and be done within four to five years, Hochul said.
"This is a window of opportunity," said Janno Lieber, acting chairman and chief executive officer of the Metropolitan Transportation Authority. "NJ Transit is saying that their ridership is going to double. So we've got to get this done, we can't let the moment slip by."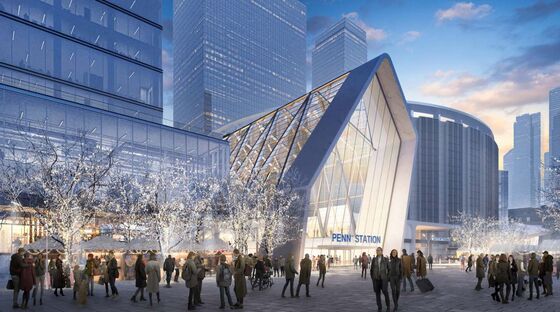 Plans also call for enhancing access to Penn from connecting subway lines, expanding underground corridors leading to Herald Square, and widening sidewalks throughout the neighborhood.
The governor's plan for the surrounding area lowers the building heights of the previous proposal, reducing the density by 1.4 million square feet (130,000 square meters), and building as many as 1,800 residential units. All buildings will be made greener and more sustainable, she said. Eight acres (3.2 hectares) of public space will be added, and traffic will be limited on 33rd Street from Sixth to Ninth avenues. 
A scaled-down Penn complex plan can generate the revenue needed to fund the transformation of the rail hub, Hochul said.
New towers would bring more workers to an area that's on the southern fringe of Midtown and east of the massive Hudson Yards development. Vornado Realty Trust, a major New York office landlord, owns much of the land that is being targeted for development.
"Vornado fully supports the efforts of Governor Hochul and the transportation agencies to improve the user experience of Penn Station for commuters, revitalize the area with transit- oriented development, and provide significant public realm and subway improvements for the community," a spokesperson for the company said in a statement.
Cuomo's ambitious proposal had drawn ire from lawmakers and community members who said it was a land grab by a governor seeking to bypass the authority of city officials. 
Hochul had already put the brakes on a rail connection to LaGuardia Airport, a project also shepherded by Cuomo prior to his sexual harassment scandal and resignation earlier this year.