Hochul to Rework N.Y. Ethics Panel Created by Scandal-Hit Cuomo
(Bloomberg) -- New York Governor Kathy Hochul plans to reform the highly-criticized commission that oversees ethics and lobbying in Albany.
Hochul, a Democrat, said in a news release Tuesday that she is starting to review the Joint Commission on Public Ethics, known as JCOPE, and plans to solicit input from good government groups, legislators and other stakeholders to "reform ethics oversight and ensure that the work of this ethics body is beyond reproach."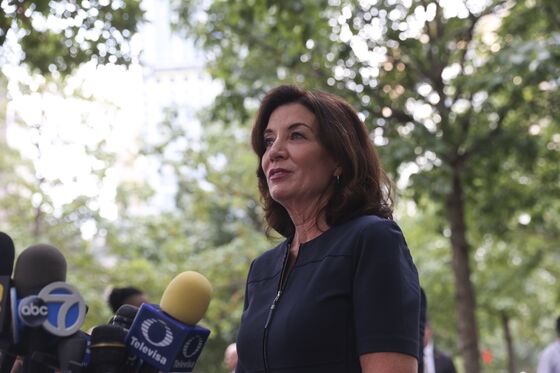 Calls for ethics reform intensified in Albany over the last year with allegations of sexual harassment and misuse of state funds against former Governor Andrew Cuomo. Hochul, who took office on Aug. 24 after Cuomo resigned under pressure, has made improved ethics oversight one of her top priorities.
JCOPE, which was created in 2011, has been denounced by lawmakers and good government groups for failing to launch corruption investigations, particularly when allegations were against someone with ties to the Cuomo administration.
While some lawmakers have pushed for legislative fixes, others say the commission should be overhauled completely.
The panel was largely dominated by appointees of Cuomo, but several have stepped down since his resignation. 
Hochul on Tuesday designated Commissioner James E. Dering to serve as acting chair of the panel, and appointed C. Randall Hinrichs, Suffolk County District Administrative Judge, to serve on the commissioner.
"I am committed to open, ethical governing that New Yorkers will trust," Hochul said in a statement. "These appointments are an important first step and reflect the urgency required for the ethics body to conduct its business."