High-Yield Bonds Find Their Footing After Slump to Lowest Since 2016
(Bloomberg) -- Junk bonds found support near two-year lows on Monday as equity markets rebounded. Concerns about earnings, trade and geopolitics are weighing on credit, but some investors see buy signals.
"It is not time to throw in the towel on this economic cycle," Scott Roberts, who oversees $6 billion in high-yield bonds at Invesco Ltd., said Monday. Recent junk-bond weakness was driven by the correction in equity prices, as well as concerns over Italy's budget standoff and Chinese growth, he said.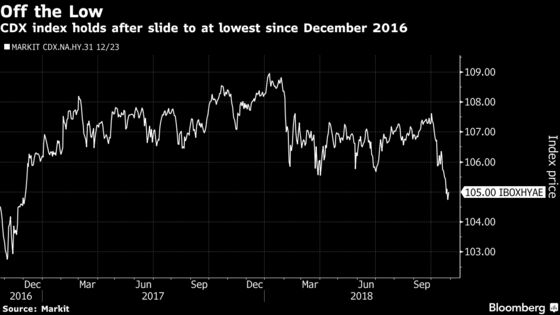 October has been brutal for fixed-income investors, and the benchmark index for high-yield debt is set for its worst month in more than 2.5 years. Losses were most intense at the riskiest end of the market -- bonds rated CCC and lower -- which had been doing best before the equity rout.
"While CCCs have certainly underperformed this month, we think it is too early to throw in the towel and migrate completely to BBs because the fundamentals of the economy and the credit markets are still solid," said Ken Monaghan, co-head of high yield at Amundi Pioneer Institutional Asset Management.
The outperformance of junk bonds against stocks in the face of volatility shows that "there was no real concern about growth," JPMorgan Chase & Co. analysts led by Peter Acciavatti and Nelson Jantzen wrote in an Oct. 26 note.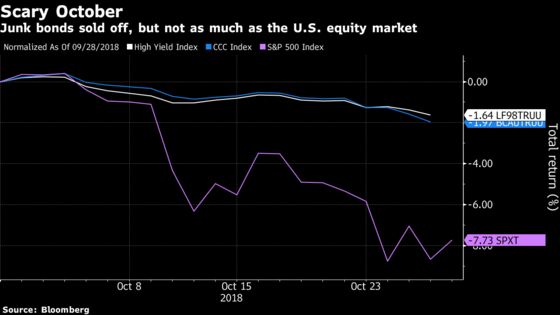 Fears are rising that declining corporate earnings means slower U.S. economic growth. But even a 2.5 percent rate of expansion boots high yield because "companies can incrementally grow revenues," said Invesco's Roberts.
The money manager said earlier this month that he would add to his portfolio in this environment. The high-yield market is "full of opportunities," he said.
Read more: Junk Bond Yields Spike to Two-Year High on 'Peak Earnings' Worry
The high-yield repricing has more to do with concerns about the impact of trade wars on economic growth than fears of corporate defaults, said Stephen Caprio, a credit strategist at UBS Group AG.
"Cyclical weakness does not imply the cycle is ending," said Caprio. Corporate earnings are slowing from previously elevated levels, not suffering a major deceleration, he said. The U.S. high-yield default rate will fall to 1.5 percent by the end of 2019, the lowest level since 2013, according to a Fitch Ratings report last week.
The UBS and JPMorgan analysts noted the benefit on secondary-market prices from a lack of primary issuance as investors snap up what's available. High-yield bonds are the only segment of fixed income showing a gain for the year: The 0.89 percent total return for junk debt compares with a 3.2 percent loss for investment grade. Issuance of the riskier debt is the slowest since 2009, down about 34 percent from 2017 through Oct. 29.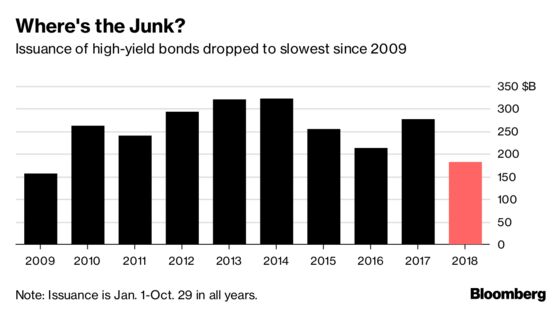 "High yield is still going to be the best performing fixed-income asset class," said Margaret Patel, a senior portfolio manager at Wells Capital Management. "Spreads will remain narrow because the risks are also low."