High-Grade Bond Market Back From Brink After Credit Rout
(Bloomberg) -- Following a stomach-turning month for credit, signals in the U.S. investment-grade bond market suggest investor indigestion is easing.
High-grade bond issuers are paying lower premiums for bringing new debt to market this week and the cost of insuring against bond defaults has fallen. And spreads on high-rated bonds have started to flatten and even stopped their sprint wider during recent trading sessions.
"Yes, it feels like the bleeding has stopped for now," Tom Murphy, head of investment-grade credit at Columbia Threadneedle Investments, said in an interview. "The market is wide open and deals are getting done."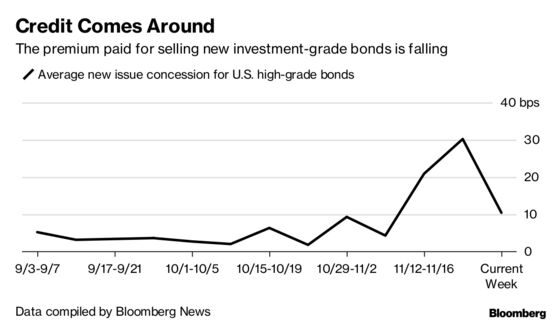 Dismal credit conditions sidelined plans for many issuers to sell debt earlier this month and those who went forward paid handsomely to get their deals done. Last week, Takeda Pharmaceutical Co. ponied up as much as 40 basis points in so-called new issue concession to sell acquisition-related bonds.
But this week investors have welcomed debt sales from the likes of Home Depot Inc. and International Business Machines Corp., with those deals drawing premiums well below levels demanded in the past two weeks. New bonds have also tightened during the pricing process in recent days, a sign that investor demand has picked up. As of Wednesday, U.S.-based issuers had sold more than $25 billion of bonds -- well over initial estimates of up to $20 billion for the entire week.
"They're not going great, but they're getting the deals done," Zachary Chavis, portfolio manager at Sage Advisory Services, said of this week's bond sales. And while investment-grade spreads might continue to widen, the speed of the move will likely be slower, he said. "Some of the panic is gone."
Those are welcome signals for investment-grade credit, which is facing its worst year since 2008 in terms of total returns. High-grade spreads surged early in November amid broad volatility, jumping to levels not seen in two years, before slowing their ascent this week.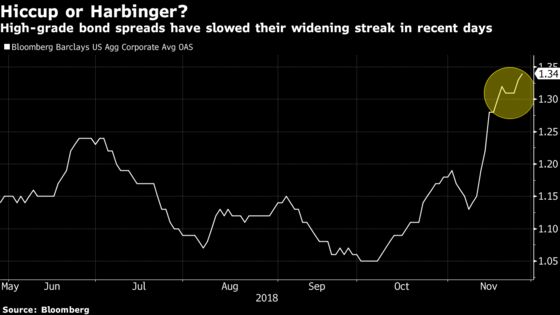 Plenty of investors have voiced long-term concerns about high-grade bonds, including Guggenheim Partners Chief Investment Officer Scott Minerd, who tweeted on Nov. 13 that "the slide and collapse in investment grade credit has begun."