High Debt Is a Problem for Euro, Says Debt-Averse Czech Republic
(Bloomberg) -- Euro-zone countries' public debt piles are threatening to handcuff policy makers in the bloc as they brace for an economic slowdown, according to the head of the Czech central bank.
Governor Jiri Rusnok, whose country is obliged to join the single currency along with most other European Union states that aren't currently members, said debt levels that have risen since the global financial crisis had left governments with "limited" room to juice growth via fiscal stimulus.
"The euro zone, or some of its less successful parts, aren't in very good condition," Rusnok told the weekly Euro magazine in an interview published Monday. "A huge problem is the long-term, almost 20-year-long, stagnation of Italy. If it starts to grow, it will be out of trouble very soon. But it isn't growing, and it's the third-largest economy in Europe if we don't count the U.K. "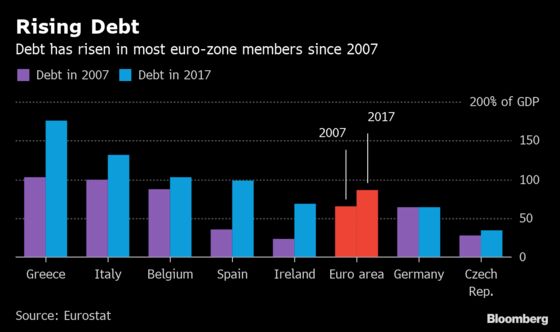 Rusnok's comments come on the heels of Czech Prime Minister Andrej Babis's rejected of euro-area membership earlier this month. More than 70 percent of Czechs are against joining the euro, a 2018 survey by Eurobarometer showed, and policy makers here have long touted the country's low debt, independent monetary policy and koruna as factors that make it resilient to the woes facing the single currency.
The European Central Bank's new projections show growth in the euro zone slowing this year to just 1.1 percent, down from December's 1.7 percent prediction.
"So, like it or not, the euro is still not out of the woods," Rusnok said. "Another test of its resilience may come, and the ECB would be, in that case, in a pretty difficult situation."