Hertz and Avis Tumble 30% in Three Days on Virus Travel Threat
(Bloomberg) -- Car-rental companies are plunging after U.S. health officials warned that the coronavirus could spread widely, possibly leading to stricter travel restrictions.
Hertz Global Holdings Inc. and Avis Budget Group Inc. each have plunged more than 30% in three days. The scale of the three-session declines as of Thursday's intraday trading are the biggest since 2016 for Hertz and since 2009 for Avis, according to data compiled by Bloomberg.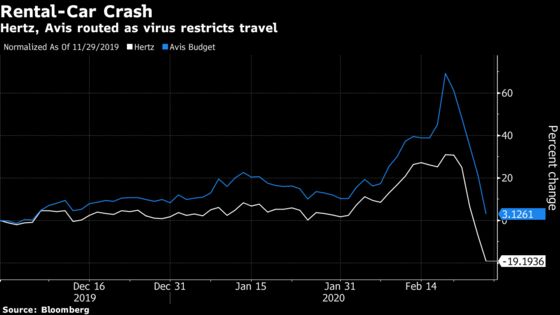 While the U.S. has seen a small number of coronavirus cases and hopes to limit the spread, health officials are preparing as if there will be a pandemic, Nancy Messonnier, director of the Centers for Disease Control and Prevention's National Center for Immunization and Respiratory Diseases, told reporters Tuesday. Hertz and Avis rely heavily on business and leisure travel that could be restricted as part of the emergency measures that the CDC outlined.
Some of the world's biggest employers already have suspended business travel. Nestle SA, the world's largest food and beverage company, told employees to avoid traveling for business until at least mid March. A similar recommendation at L'Oreal SA, the cosmetics owner of global brands like Lancome and Maybelline, extends through March 31.
Related stories
Airlines May Face 9/11-Type Demand, Profit Shock, Analyst Says