Australia Stocks Erase A$18.6b on Emerging Market Contagion Fear
(Bloomberg) -- The S&P/ASX 200 Index fell 1 percent to close at 6,230.40 in Sydney, wiping out A$18.6 billion ($13.4 billion) to extend its longest losing streak in more than three months on concern emerging-market contagion will spill into developed markets and as U.S.-China trade tensions persist.
Sigma Healthcare Ltd. was among the best performers ahead of its first-half results on Thursday. Orocobre Ltd. was the worst after saying that Argentina's export tax will equate to a levy of about 8% of its local venture's export sales revenue.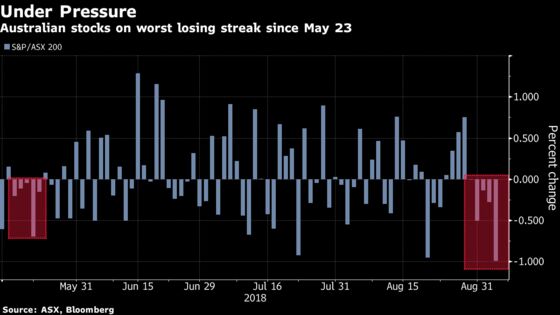 In New Zealand, the NZX 50 index fell 0.7 percent to close at 9,228.00.
Sigma Healthcare +5.2%; NOTE: down since cutting profit forecast in July
Reliance Worldwide +3.7%; fell 10% since Aug. 29 as of Tuesday's close
Vocus +3.5%
Orocobre -13%; Orocobre Slides to Lowest in Year After Argentina Export Tax
Sims Metal Management -5.1%, pares Tuesday's 7% gain
Western Areas -4.9%; Nickel Near Lowest This Year as Metals Weaken Again
Stocks Drop Amid EM Turmoil; Dollar Holds Gains: Markets Wrap
Australians Spending Like 2007 Drive Fastest Growth in Six Years
Australia's Government Scraps Plan to Raise Pension Age to 70
Emerging-Market Contagion Fear Is Rising as Sell-Off Gets Deeper
Millennials Down Under Are Sick of Paying for Boomers' Health
Rate-Cut Bets Jump in New Zealand as Business Confidence Falls
Chorus Names Aurizon Executive David Collins as New CFO
Oceania Healthcare Says Major Holder to Sell 95m Shares
Deutsche Bank's Dumas Joins Ardea IM as Portfolio Manager
Glass Ceiling Intact in Australia Where 7% of CEOs Are Women
For Australian stocks to watch, check out NI SWAU. Click NI AUSTREET for a wrap of analyst research notes