Here's the Trillion-Dollar Global Bond Rebound in Two Charts
(Bloomberg) -- No wonder one of the biggest bond bulls out there thinks the market is running a little hot.
Dovish pronouncements by the world's major central banks and easing inflation expectations have turbo-charged global debt markets, while Treasuries prove their hedging power in the grip of stock-market meltdowns.
For one, the $51 trillion Bloomberg Barclays gauge of global investment-grade obligations has already recovered half its index losses posted between last year's record high in January and the low in November.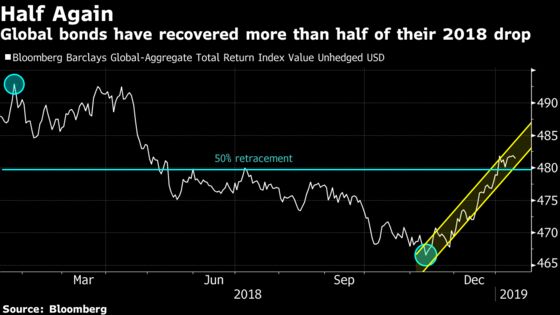 And forget warnings that the decades-long bull market is in its death throes: the world's pool of negative-yielding debt has exploded.
As central banks including the Federal Reserve and European Central Bank toned down any hawkish rhetoric, while China pledges more stimulus, the stockpile has climbed to almost $8.5 trillion. That's a $2.7 trillion jump in little over three months.