Heightened Rate Sensitivity Will Stop Bank of Canada Early: CIBC
(Bloomberg) -- Canada's heightened sensitivity to higher interest rates will prevent the central bank from raising borrowing costs much beyond current levels, according to CIBC Capital Markets.
The Bank of Canada is indicating it may be only half way through its rate-hike cycle after raising borrowing costs five times, but it could be underestimating lagged effects of its rate hikes, economist Royce Mendes said in a report Tuesday.
There is already evidence from car sales that the effects of the rate hikes are showing up sooner than in the past. That could be a problem for an economy that is increasingly dependent on interest rate-sensitive industries.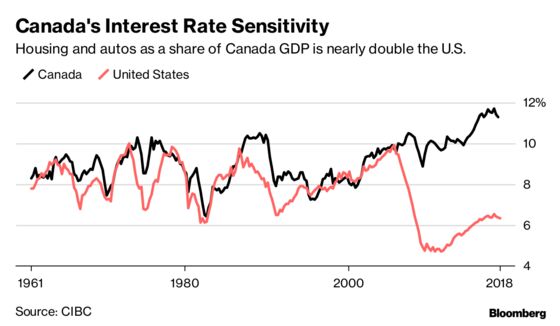 "The fact that the effects are showing up sooner this time around could simply be a sign that the storm will pass quicker," Mendes said. "But more likely it's a reflection that models based on historical evidence will tend to underestimate the effects of rate hikes on the Canadian household sector in its current indebted state."
The bottom line, according to Mendes, is the Bank of Canada won't be able to go beyond two more rate increases, stopping its hiking cycle at 2.25 percent. That's well below the 3 percent midpoint of its estimated range for a neutral rate.