Hedge U.S. Election Risk by Buying Yen, Standard Chartered Says
(Bloomberg) -- Markets are underpricing the risk that U.S. President Donald Trump may lose this year's election and investors should consider buying the yen as a hedge, according to Standard Chartered Plc.
The Dollar Index has gained more than 2% since the start of the year as it tracked Trump's online re-election odds in a stronger-than-expected correlation, according to StanChart's head of global G-10 FX research Steve Englander. But with polls and online markets suggesting that Trump isn't a shoo-in, investors may want to hedge the risk with the dollar-yen pair, he said.
"We like USD-JPY downside as a hedge when it moves into the 109.50-110.50 range," Englander wrote in a report Monday. "The limited upside on JPY, its low implied volatility, and the responsiveness to negative political and economic shocks make it an attractive hedge to long risk positions."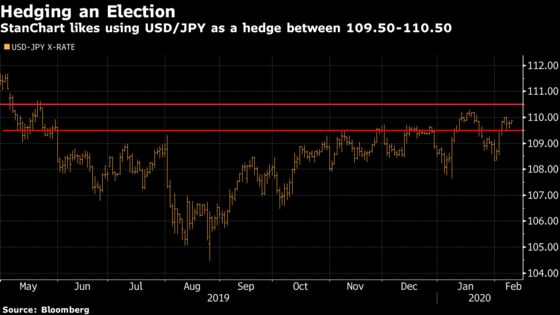 The yen is a good hedging tool as it's responsive to downside economic shocks while largely staying stronger than 110 per dollar since May, according to Englander. Japanese policy makers may want to avoid having an overly weak yen that could become a political issue during a U.S. election year, he said.
Markets have already started to price in uncertainty around this year's American presidential election, particularly given Wall Street's concerns about the chance that a progressive candidate such as Elizabeth Warren or Bernie Sanders might win the nomination, or even the presidency. The Cboe Volatility Index futures curve is just one place showing bets on heightened volatility.
The dollar-yen pair has climbed more than 5% to 109.87 since reaching the lowest in almost three years in August.