Heavy Rains Lash New York While Snow Piles Up in Midwest
(Bloomberg) -- A powerful storm moving across the Mid-Atlantic is bringing strong winds and heavy rains across the Northeast, including New York, and as much as a foot of snow in Cleveland and around Lake Erie.

The storm has touched off tornado watches in New Jersey and Maryland as a line of thunderstorms marches north, according to the National Weather Service. High-wind warnings and advisories stretch from New York across Long Island and into New England, including Boston. There's a chance for flooding in the central Hudson River Valley and around Albany.
"A complex low-pressure system is lifting north," said Lara Pagano, a forecaster with the U.S. Weather Prediction Center. "It will drag a cold front with heavy rain and thunderstorms through the north and east with time."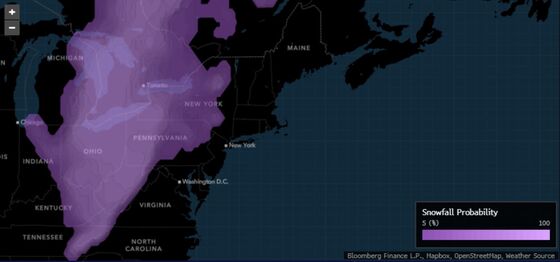 In the Midwest, cold air will usher heavy snow across the Ohio Valley and Appalachians where winter storm warnings and weather advisories are in place. As much as 12 inches of snow could fall in Cleveland with even higher amounts in the hills and mountains to the east.

"On the backside, cold air is coming in with a vengeance," said Pagano. "It is going to be pretty widespread, heavy snow across Lake Erie and that includes the spine of the southern and central Appalachians."